A Complete Beginners Buying Guide for the Automatic Screen Printing Machine 
It is an important decision to make an investment in an automatic screen printing machine to step up your business. To keep pace with the current world and production requirements, you have to choose the right automatic press and consider the design complexity, production speed, and your floor space. When you are ready to upgrade your screen printing business with the automatic screen printing machine, you have to consider a few factors. Changing your business from manual press to automatic press is a big decision. Sometimes it may be hard to fulfil the customer demand.


How to Manage a Big Project?
When you are having big projects frequently, you can hardly manage your buyers demand with your manual screen printing press. To get ready your order faster, you just need a big budget for the automatic printing press. The automatic screen press can print for hours and also keep the quality. You can take any challenge with the automatic screen press while a manual printer who pulls the squeegee for several hours fails to do so.
So you can grow your business quickly and finish your large orders in time buying an automatic screen printing machine. As an automatic press saves your time, you can concentrate on marketing. Thus it will gradually increase both of your clients and business profit. However, if you are taking preparation to purchase a high-quality automatic screen printing press for your business, you might look at the few considerations below.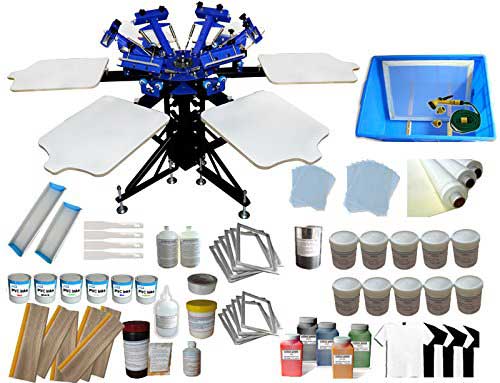 Configurations for the Automatic Screen Printing machine
The automatic screen printing machines have different configurations based on their colours and stations. Among various configurations, you have to choose your required colours and stations screen printing press. Are you going to print complex or simple designs? You have to pick your press according to your capabilities, designs, and customer demand. Of course, you should keep in mind about the white under-base screen or flash cure with the colour and stations. Try to buy one step upgrade press than the configuration you need. Though the cost will vary, it will give you good support to perform an extra job. A slightly large automatic screen printing press can promote your capabilities within a year.
Size Consideration for Automatic Screen Printing Press    
The second consideration is the press size and it is correlated with the press configuration. If your screen printing shop is in limited doorways or smaller space, 6 colour screen printing machine for minimal floor space or smaller doorways. But if you are fit for wider doorways, you can choose 14 colours to 8 colour automatic press You have to buy a press according to your floor plan and the room in which the press would be run by the employee. You need to keep 2 to 3 feet space around the automatic screen printing press. Measure the footprint of the press for operation and maintenance. You mustn't forget to keep in mind about air compressor and chiller while you upgrade your press.
Determine Whether the Automatic Screen Printing Press is All-Electric or Pneumatic
The new generation automatic screen printing presses have gone all electric but previous presses were with the air compressor. You have to take the right press for your press whether it is pneumatic or electric. For a small business, the all-electric screen printing press can help you to set a large configuration in a small shop as it doesn't come with the chiller and air compressor. You have less maintenance worry for the electric press as you are not getting the problems from the air compressor and airlines.
Key Features of the Automatic Screen Printing Machine
There are various features of automatic screen printing machines in the present market. In this digital and ultra-modern age of science, the new generations automatic presses are specially featured from one to another. While you buying the automatic screen printing press make sure it has all the basic controls you need. Check the press is high-tech computerized controls or not. It is highly recommended to compare the screen clamps, squeegee set up, safety features, off-contact controls, lubricating and pallet levelling systems among other things.
Support Equipment    
As your decision is final to buy an automatic screen printing machine, you might focus on the support equipment for the press. An automatic press has some demand to operate. Make ensure whether the exposure unit is the right size for the large screen of the automatic printing machine or not. Check the dryer is enough large to keep the extra production.
Electric Power system for Business Setup
Think about the accommodation for the automatic press. For home-based business one phase, the electric system is enough. On the other hand, the three-phase electric system is perfect for the business. The pneumatic press needs airlines and electric hookups for your compressor.
see buyers guides
Financing for the Automatic Screen Printing Press
When a small screen printing business owner wants to buy the automatic press, gets sticker shock. As the large automatic screen printing machine is very expensive, you can lease the press or can take a loan to buy one. You should make a proper calculation of the monthly profit from the press to pay the monthly lease or loan. An automatic press that can give higher production makes easy to earn the profit and pay the lease or loan.
Learn more related articles: