If you are looking to design and print your own custom shirts, you probably found these two terms: DTG printing and screen printing. Both screen printing and direct to garment (DTG) are two popular and traditional methods for printing custom designs on fabrics. But what is the difference (screen printing vs dtg) between these two methods of printing t-shirts? When should you use one against the other?
The topic can be a bit confusing if you have never printed your custom t-shirts before, so we have compiled this quick guide. We will answer these four most common questions:
What is the difference?
What is DTG printing?
What is screen printing?
How do they compare?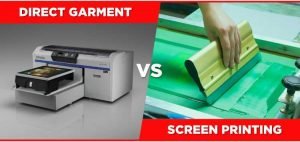 If you've never printed your custom shirts before, follow these best practices and study the different ways your shirts can be produced. Whether you're creating custom t-shirts for a creative project, a fundraising campaign or another reason, understanding the printing process will help you make the best decisions possible. Ready to get started?
What is the Difference Between (Screen Printing vs DTG) DTG and Screen Printing?
Screen printing is the most traditional technique that involves pushing ink onto the fabric through a pattern, while directly on the garment is a more recent method that uses a printer to apply ink on the shirt.
What is Direct Print on the Garment (DTG)?
DTG printing involves the use of a digital printer to apply ink directly onto the fabric of the clothes you are customizing. This is a new method of printing t-shirts that has gained much popularity in recent years thanks to the technological improvements of DTG printers.
How Does DTG Printing Work?
DTG printing works like an inkjet printer in your home office. The printer translates the digital image or graphic file into your empty t-shirt! DTG printers are large and can handle all kinds of projects in many colors. Water-based ink is applied in a single layer that is quickly absorbed into the fibers of the jacket. The DTG printing method is accurate and produces high-quality results, but the ink is not as deeply immersed in the fabric as with other methods such as screen printing.
What type of design works best with DTG shirts?
T-shirts with particularly elaborate designs with tons of different colors
Small batches of custom shirts (10 shirts and less)
This makes DTG printed shirts excellent for individual creative projects, uniforms for small-scale events or personalized thank you gifts.
What is screen printing?
Screen printing is the classic and proven method of pushing ink through a woven mesh stencil over the fabric. It is a profession that expert printers have perfected over the years to produce beautiful and resistant garments.
As a more laborious process, screen printing produces beautiful and saturated colors and a distinctive and authentic appearance. Screen-printed shirts are a classic and economical option.
How Does Screen Printing Work?
Screen printing involves the process of pushing the ink through a woven mesh template on the fabric. Each color used in the design is printed separately with its own screen.
This means that your design must first be divided into several layers by color. This is usually done using design software such as Photoshop or Illustrator. Next, a template for braided screens is used to apply only one color of ink at a time, a template for the color used in the shirt design.
The ink is extracted through the template using a knife or foam tool, producing a single layer of the design with full and saturated color. This process means that screen printing is better suited to certain types of t-shirt designs.
However, it produces high-quality results that have remained extremely popular among consumers for decades.
What kind of design works best on screen-printed shirts?
Eye-catching graphics or typographic t-shirt design
Designs with a few different colors Large batches of custom shirts (more than 10 shirts)
This makes custom screen-printed shirts a smarter choice to collect larger funds or for events, like for 5K or a fundraising campaign for mission trips.
How Do You Compare DTG Shirts and Screen-Printed Shirts?
Because these t-shirt printing methods are very different, of course, there are some pros and cons for each. Depending on the details of the custom printing project, one will probably be a better option than the other.
The major differences to consider when choosing a method to fall into two general categories: design and costs.
Differences Between Screen-Printed and DTG Designs | Screen Printing vs dtg
If produced by a professional using the right equipment, any of the printing processes will result in a high-quality t-shirt, but there are still some important differences depending on the design.
DTG printing comes with leaving just a single layer of ink to create your final design but on the other hand screen printing produces several layers. This has some important effects, in particular on how you use color in your design: screen printing will produce a vibrant and durable design with more saturated colors than the DTG process.
However, the intense process of converting the design into multiple models limits the number of colors that can be used. DTG printing produces a slightly faded design with a single layer of ink, but without limits on the number of colors that can be used. However, there are some limitations that make certain color combinations difficult.
For example, it can be difficult for digital printers (heat press machines) to create light-colored ink drawings on dark fabrics. This means that some types of t-shirt designs are more suitable for each method.
The simplest and stylized designs with graphics or text in a handful of colors are excellent for screen printing, while DTG printing can handle more elaborate designs in multiple colors, usually in light-colored fabrics.
Click here to get more details about digital tshirt printing machine
Screen Printing vs DTG: Difference Between DTG Costs and Screen Printing Costs
The fundamental differences between each process also translate into differences in final costs. Again, both may be a good option, but it depends entirely on the details of the project. This is how they accumulate:
Screen printing costs
Screen printing is more convenient for large batches of shirts. The template process means that installation costs are slightly higher, but it also makes screen printing for large orders of a design more efficient.
The use of a larger amount of colors than recommended slows down the process, resulting in an increase in final prices since each color used requires the creation of a template for the screen.
But with screen printing, there are usually cost savings when printing more shirts. Having master templates for each layer simplifies the process as more shirts are printed.
DTG Printing Costs
DTG printing is the most convenient for small batches of custom shirts. The amount of colors used will not seriously affect the final price. However, large batches will use more ink and time. It is also that the printer can only handle one shirt at a time, resulting in higher prices.
DTG printing generally does not offer massive savings as is the case with screen printing. The scope of your custom t-shirt printing project should be taken into account when choosing a printing service to manage it.
Some custom clothing services only offer one or the other, while others offer screen and DTG printing options depending on the size of the project. If you choose a DTG-only service, the cost per shirt does not decrease when you buy more, while in general, you pay less per shirt as the amounts increase during screen printing.
Finding a personalized t-shirt printing service that offers the best of both techniques (DTG and more traditional screen printing) will give you the best long-term value.
Understanding the differences between the two methods will help you better determine what you need from a partner by starting with your custom t-shirt project!
Fancierstudio Power Heat press Digital Heat Press 15 x 15
Read More:
10 best screen printing machines for small business
7 best professional tshirt printing machine of the present market
Screen Printing vs Vinyl- A Realistic Comparison, Pros & Cons
Why Should you Use a Digital T-Shirt Printing Machine to Maximize your Profits?
Screen Printing vs Heat Press [Differences, Similarities, Pros, Cons]