PLASTISOL INK
Most people involved in screen printing tend to use Plastisol ink. It is thick, durable, versatile, and provides precise graphic detail. Plastisol ink is also easy to mix, long-lasting, widely available, comes in various colors, and works well with different screen printing methods, equipment, and designs. It can also stay on the screen for long periods without drying out. This type of ink's high density prevents it from arching, and its low viscosity allows it to work well with softer prints. It also provides a low gloss, flat finish. Plastisol ink needs heat to dry.
WATER-BASED INK
Some people prefer water-based ink because it soaks into the fabric fibers on which it is used rather than sitting on top, as Plastisol does. It gives the screen print a softer feel than those made using Plastisol ink. Some people find it also provides the print with a more solid feel. Water-based inks are easy to use, even for printers without much experience or skill. However, it can take a longer time to dry in humid conditions and may require the use of a heat source. This type of ink is semi-transparent and may require custom color matching to produce a uniform look throughout the garment. It may also require a high-count mesh screen and a retarder to prevent design flooding.
DISCHARGE INK
Discharge ink is available in both Plastisol and water-based types. When using discharge ink, the ink removes the fabric's color on the areas where it is applied and replaces it with its pigment. It makes discharge ink popular for people working with 100% cotton. To fully cure, it is necessary to use a heat source for fabrics silk-screened with discharge ink. Using this type of ink does require a relatively high level of expertise.
Ink for Screen Printing Machines
Ink is an essential material for the screen printing machine, but often there is confusion about choosing the most suitable ink. Particularly the new entrepreneurs with screen printing businesses become hesitant to select the ink considered best for their printing job. Of course, beginners must find the solution to select the proper ink for their screen printers.
However, to solve this problem, the new entrepreneur must think first about what will print. Then consider the best matching ink for the particular printing item. Broadly for screen print jobs, it is necessary to choose proper ink from two categories (i) Water-based and (ii) Plastisol. Both inks are for the screen printing job. So, first, analyze both the inks and conclude the best selection for the printing job.
Plastisol Ink is More Suitable for dark colors: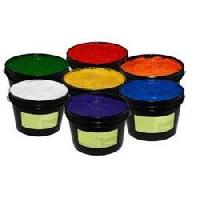 Materials mainly used for this ink are plasticizer liquid and polyvinyl (PVC). It is thick and seems rough to touch. Plastisol ink gets attached to the top of the fabric and does not make the fabric die.
Simple to Use, Enormous for Gloomy Clothes:
Plastisol is highly suitable for garments that are heavy such as sweatshirts. It provides lively prints with your screen printing machine on gloomy cloth. The quality of Jerseys gets improved by thick printing with Plastisol. Performing printing with Plastisol is easier than water-based ink, and one can dispose of it engaging less effort than water-based ink.
Limitations of Plastisol Ink
– Not easy to breathe for thick and rubbery nature.
– To set Plastisol, 320°F temperature with a particular time limit; otherwise, the ink will be kept wet until PVC resin and plasticizer fluid bond.
– Not easy to print on cloth made of soft cotton.
– It causes Fibrillation (poke of small fiber through the print)
– After some washcloth printed with Plastisol could get split.
Water Based Ink
– Easy to discharge from the pot for its thin and running quality.
– Could produce quality print –transparent and soft to the touch.
– Printing with water base ink, the classic presentation can produce.
– More suitable for medium and light-colored fabrics.
– Fashion wear becomes more attractive, having water-based print.
– Can be dried through air subject to provide required time.
However, your choice to get precisely suitable ink becomes easy as several ink producers add some extra ingredients to your ink so that you can have an excellent mixture of your print. So, you can easily collect proper ink for your screen printing machine as per your choice and budget.
Get More Ideas