The printing business is rewarding, but it can also be challenging. You will set your print shop up by avoiding the most common screen printing mistakes.
Influential companies in Commercial Screen Printing industry and adjacent industries have large market shares. Or it is developing new business models and methods that could disrupt.
Who have been in the industry for years will admit to making screen printing mistakes that cost their business both time and money. While mistakes happens no matter how diligent you are, it remains vital to do your best to avoid them.
Screen printing is an indigenous part of a screen-printing business. Most beginners make mistakes in screen printing. So, here we will discuss some common errors of t-shirt printing, custom apparel printing, and how you can maximize your profit by starting a screen printing business. Some common screen printing mistakes can occur, eroding your profits. It will help if you avoid these blunders. Otherwise, you could not only spare yourself from some messy situation but also save on time, money, and materials. So, we think it is essential to know these common screen printing mistakes of the screen printing machine and avoid them from getting a great head start on-screen fabric printing. So if you are a newbie or plan to start your screen printing business, this article will benefit you.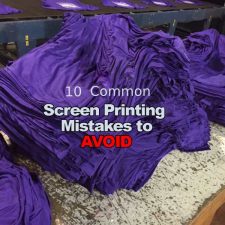 Lack of Master Plan:
First, you must gather knowledge about the screen printing business and create a solid master plan. We know that preparation is the key to establishing a reliable printing business. You should know What type of screen printing equipment and materials you need, how much time you will have to spend, who your customers are, and how to clear the basics of the screen-printing business.
 Use of Same Screen Mesh for All Screen Printing Jobs.
Most screen printing machine manufacturers provide only one type of screen mesh for all their jobs. In general, the screen printing manufacturer company typically gives out up to 110 and 125 mesh. These meshes will be the perfect solution for everyday printing on color. On the contrary, some users will print on halftone and high-end photorealistic printing, which is very harmful to a screen printing machine. If you want to print on halftones and photorealistic, you need to use higher mesh that typically goes up to 190 to 230 mesh for the under base printing and up to 305 mesh for color printing. When you decide to carry on your printing business, you should use a wide variety of mesh for quality work.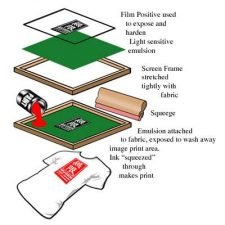 Not Cleaning Equipment Properly:
If you want to make your screen printing business too long, you should clean up all your equipment correctly every day after completing your job. Generally, the speck of ink stays frozen after your last printing, remains a piece of lent from your previous substrates, and has some grease and smudges from your hands. All garbage can create a spot on your substrates and corrupt your final products. You can save a lot of waste by properly cleaning your equipment regularly. It would help to wash your plates well, so the press is dusted. On the production floor, you must habit regular handwashing. Otherwise, your hand can spread ink, dirt, and grease onto your substrates.
Checkout:
PowerPress 15″x15″ Heat Press Machine Industrial-Quality Digital Heat Transfer Press
 Using plastisol ink straight from the can.
While you want to choose ink for your screen printing machine, you should be very careful. Most of the ink companies have offered to believe that their ink is ready for use, though some companies' printer inks are very creamy and work well with high mesh screens. But some ink companies have to provide too thick, and you need to add a little reducer to thin it for creamy and smoothness. So, If you want to use plastisol ink, you need to reduce it so that the ink works appropriately with your high mesh screens and can do all of your multi-color jobs.
Using too much ink.
You cannot do any work from your printing machine without ink, which is very important. Sometimes you can take a few attempts to find the right amount of ink to use every time. But if you are a beginner, you don't need a lot of ink. You can take a few spoonfuls of ink. That may be enough for you. Sometimes you will face big trouble like managing the ink. Remember that if you print with water-based inks, the screen floods it and doesn't dry out between prints.
Not Using spot gun
A spot gun is essential before buying any screen printing machine. Sometimes your final product will be affected by stains or spots then. You can save the spot gun by applying it. If you do not have a spot gun, you could needlessly be throwing away products. This gun will also help you to clean the solvent on fabrics flaws from the grease spots to stains to pin print of ink.
Using Backdated Equipment:
When you want to provide top print quality and get more consumers for your printing business, you must need the all-important equipment so that you replace any part of the machine at any time. If your t-shirt printer can't set up with the four-color press, you should include the six-color press for better output. Sometimes you may need to print on halftone. Then you can use a laser or inkjet printer to provide excellent quality. If you want to reach the final level of the printing business, doubtlessly, you need more color for considering your exposure unit and your film output.
Not Doing a Test Print
It is one of the crucial steps, but many screen printing machines will skip this to save production time. That will be an extra step, but it can save you from wasting time, energy, and materials. You will make big mistakes if you are not doing a test before buying. When you test any printer, you can see the spot and correct problems before they impact the whole job. Such as, you can check the bad registration if you also check the improper color matching, poor placement, spelling, or logo mistakes within the print itself. So, you always need to do the test print even if you have been printing for some time now. That could save you from throwing out an entire press run.
Using White Underbase as a Highlight
If you want to use the white under base as a highlight, then leave this idea immediately. When you use the white under base as a highlight, you need too much ink and produce a heavy hand that may be undesirable and affects the quality of the following layers of ink. So it would help if you extra effort to prepare a separate screen for the white highlight.
Don't Press on the Squeegee Too Hard.
We know that you need a firm grip on the squeegee to get a great coat of ink. That means not saying that you dawn your whole weight onto it. If you Push too hard on your machine, you may face trouble like ghosting or smearing, so don't do that.
Mophorn Heat Press Machine Reviews
Best Heat Press Machines Review & Buying Guides
10 Best T-Shirt Printing Machines to Buy
Fancierstudio Power Heat Press 15×15 Sublimation Digital Heat Press
fancier studio power heat press