A Beginners Guide While Using Screen Printing Machine
It doesn't fact what type of screen printing machine you are using. To get standard screen printing artwork, you must follow the proper printing rules. Screen printing is quite challenging for the beginners. It can be tough enough for the new entrepreneurs. Most of the time they fail to give the high-quality screen printing work. A screen printer needs to select the right kind of screen and should keep screen tight while printing. After printing, the screen needs to be dry. Finally, he has to apply emulsion. The emulsion should be mixed 2 hours before printing.
The Demand for Good Quality Screen Printing 
Screen printing is really puzzling. In this current century, its use in screen printing shop, garments, ceramics, glass industries is increasing dramatically. It's also gaining popularity in wood and metal industries. There a large number of printing industries has grown throughout the world centering screen printing. Screen printing business and industries are going forward with full speed. So the demand for quality printing work has reached its peak. Only a good piece of work can ensure your sustain.
 What to do an amateur screen printing machine user?  
As a beginner, a printer must need to follow some basic screen printing methods. He needs to avoid the frequent mistakes. He might need to cope with the critical situations. So you must have a good hand to run the screen printing press. Your work must be a quality and unique one. There are a lot of ways to be successful in screen printing but you may have good direction from few pieces of advice below.
Making a Clear and Simple Design to Get Best Printing Work
You can easily use a simple design in t-shirt or garment, silk or glass printing. A transparent print work increases your design acceptance. It will be considered as the artwork of printing. You should always try for printing a simple design in a transparent way. If you can give the thick line with a clear print, it would be preferable to all.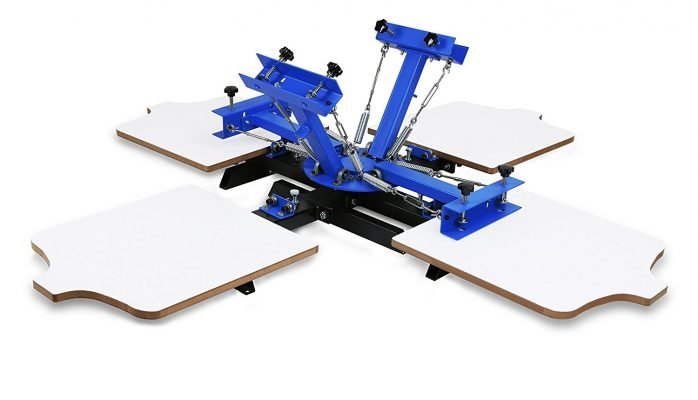 Important Tools for the screen printing machine
The most important tools for screen printing machine are the emulsion, the ink, and the squeegee. After making a clear and simple design, a screen printer must need to gather some useful substances. He needs to select a printing object and it may be a garment or a bag, t-shirt or glass, ceramic or metal etc. The printing object should be transparent and it might be able to absorb the ink. Then you move on to gather black paper, photosensitive emulsion, and activator, ink, plastics or fabrics, and a squeegee.
Building a structure or  Screen Printing Frame
Making a screen printing frame is another important part of screen printing. This frame or structure will allow the ink to pass throw the screen onto the printed object. Frames may be of different materials or wooden.  A wooden frame is suitable for a quality screen mesh. To build a wooden frame you need following materials.
1.)Plywood and clamp hinges  2.)Wood screw  3.)Lumber and duct tape  4.)Foam rubber (thick)  5.)Drill and glass plates
Take the Plywood of 2″ long which is larger than the frame. After that, I would suggest you take a foam rubber which length is 3″. You should keep 1/2″ gap between the frame and foam. The screen printing machine users should keep the frame in the center with plywood and keep clamp hinges on the other end. Then he needs to take a 1/4″ glass plates same as the frame. Of course, he should cover the glass plates with duct tape to give safety.
Mesh count or screen 
You can't ignore the importance of the right mesh count in screen printing. It is the most important consideration in the screen printing process. A crucial fact is to choose a suitable screen. Screens may be made from metal, nylon, plastic, polyester, and vinyl. Among all these screens, plastic screens are the best and suitable for the frame.  Metal screens are fruitful for the industry.
Applying Photo Emulsion
You can't but applying Photo emulsion to burn the image. Photo emulsion is a kind of liquid chemical which is light sensitive. In the manual screen printing machine, it burns the image and creates a design. It is used for the screens and it blocks the region in which the ink passes over. The emulsion should be poured on the screen thinly and the users should be kept in mind to cover all the holes.
Read More Related Articles: