Screen Printing Kit
In the market, you will find a lot of screen printing kits. They are different from each other depending on the brand, model, capacity, performance, etc. There are a lot of famous brands for screen printing kits, such as DIY print shop by Ryonet speedball, Jacquard Merchmakr, etc. Finding the best screen printing kits for your business needs close observation and intensive search based on reviews, price, and other factors.
Among the screen printing kits available in the market, some are equipped with multiple stations that enable users to multitask. Most screen printers provide the provision of printing t-shirts of various colors. For example, a 4-color 4-station screen printing machine can hold 4-screen plates simultaneously and is capable of offering 4-colors overprinting.
Checkout: Silhouette Cameo 3 Bundle Cutting Machine Review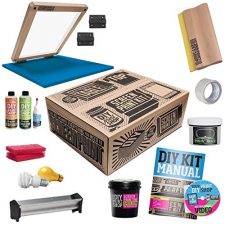 Price Variation of Screen Printing Kits
Price variation is significant here. You will find screen printing kits in different price ranges, from low to high. So it is easy for users to select the suitable one within their budget. For example, the VEVOR 4 color 4 station screen printing machine costs around $350 while SHZOND 4 color 1 station screen printing machine costs only $150. The price will rise if you want several stations equipped with the machine.
It would help if you focused on some factors when searching for a suitable screen printing machine for the t-shirt business. Always select a model with a simple but durable design. Most models have all-metal construction with rust-resistant electroplating. Some brands offer space-saving screen printers, enabling you to set up the machine within a limited space. Easily installable models are very suitable for newbies.
Perfect Maneuverability & Warranty Service
Screen printing is a vast field, and if you intend to cover items more than t-shirts, it should be ensured that the screen printing machine you purchase can serve your purpose.
If you tend to change your workplace frequently, choose a model suitable for transportation with perfect maneuverability. Some companies offer a long-time warranty service with friendly customer service. You can opt for these brands if you expect to get post-purchase service for a long time.
Some screen printing machines are available with screens, and in some cases, you will have to purchase screens separately. It will add to your cost. Free shipping is provided during the purchase by most companies, whereas some do not offer it. So, get this issue cleared before ordering.
Best Branks for Screen Printing Kits
Choosing the best one from various t-shirt printing machines is difficult. But, from different considerations, we can advise some best brands in the market. Customers highly rate Superland 4 color 4-station silk screen printing machine due to its accessible assembling facilities, smooth performance, and excellent customer service. Its friendly and careful packaging protects the product during transportation. Its price is a little bit higher. You can also select the Ridgeyard 4 color 1 station screen printing machine, specially designed for individual entrepreneurs. Happybuy 4 color 1 station silk screen machine attained immense popularity for its reasonable price.
So, select one which is the best for your screen printing business.
Best screen-printing machine to start a new business
A screen print is a handy machine for those ambitious in art and design. A screen print means printing work on fabric items like t-shirts and others because of its ease to use and high demand, now used for commercial and non-commercial purposes. Screen printing is also a home business, as many women live their livelihood through screen printing.
But it is a crucial step for them to choose the best screen-printing machine to earn slightly. Here we include 5-best screen print machines that help anyone to make a quick decision to start a screen-printing business.
As many of us think about starting this type of business with a lower budget, we are mentioning screen print materials here to look at their target. Although, when you decide to start a screen-printing business personally, you will have a clear sense of the materials you would need to ensure.
Here are the basic kit materials that you will need to start a screen-printing project,
Screen and frame

Photo emulsion and sensitizer

Squeegee

Scoop coater

Silkscreen fabric ink

Transparency paper

250-watt bulb

Latex gloves

Fabrics

Cardboards

Makeshift black room
Here are some ready-to-use screen printing suggestions to start with,
Best Screen Printing Kits Reviews :
Screen Printing Kits are a growing business nowadays. The T-shirt is now selling in both online and offline stores, and They are familiar because of their custom design. People are now making custom designs and shapes t-shirts for their particular reason like personal events, get-togethers, reunions, etc. According to the demand, t-shirts have become a universal clothing item.
Many t-shirt printing companies have been built here and there to meet people's quantity. Also, t-shirt printing methods and techniques have been upgraded to get the best t-shirt with a custom design.
In this article, we will introduce some Screen Printing Kits machines that will help those new in the t-shirt business sector.
1. Simple bundle screen printing kit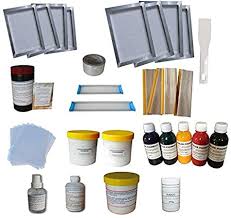 Simple bundle screen printing kit
Though it names a simple kit, it is enough to easily do any professional type printing work.
This kit includes,
Four 10.5-inch by 15-inch metal frames

Four 16-inch by 20-inch metal frames

Photosensitive emulsion

Two emulsion scoop coaters

Four spatulas, eight squeegees

Twenty sheets of transparency papers

Graphic blackening agent

One roll of aluminum tape

Pallet adhesive, white paste

Transparent base

Pigment colors include: black, blue, red, green, and yellow

Emulsion removal powder
This kit is expensive, around $340-$350, but you will love to use it once you start.
2. T-shirt screen printing kit by the DIY print shop
If you are a beginner in screen printing, this kit is for you. It is the ultimate kit with everything you need in a screen-printing kit.
The DIY print kit includes the following:
14-inch by 14 inches DIY starter press

16-inch by 20-inch wood-framed screen

One UV bulb

10-inch squeegee

11-inch scoop coater

A 15-foot roll of 2-inch screen tape

One pint of emulsion

Light-safe bulb for darkroom environment

One pint of white plastisol ink

One pint of black water-based ink

Degreaser

Emulsion stripper

Supreme wash

Pallet Adhesive

Scrub pad

Four pairs of disposable latex gloves

Ten ultimate cleanup cards

Two sheets of 16-inch by 24-inch parchment paper

A 10-pack of rite film and WP film

One Allmade aluminum gray large tri-blend T-shirt
This DIY kit is reasonable in price that is about $240- $250.
3. Silhouette Cameo Screen Printing Bundle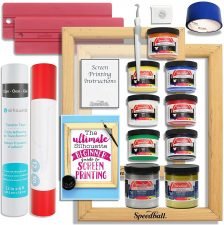 That is quite different from the above-listed item, as you won't be used as an emulsion in this kit. Also, you would have to use vinyl, which is much easy to use and chemical-free.
The silhouette cameo kit includes the following:
10 inches by 14-inch wood frame screen

Blue tape

Eight speedball ink colors: black, blue, yellow, red, white, green, gold, and silver

A squeegee

Hook tool

Scraper tool

Transfer paper

Six-foot roll of vinyl

Instruction and beginners guide to screenprint
As it is a wood-framed screen print kit, it is lower in price. A silhouette cameo screen print is around $85 to $95.
That could be a better option for those searching for a cheap machine to start a screen print business.
4. Speedball SB4526 Screen printing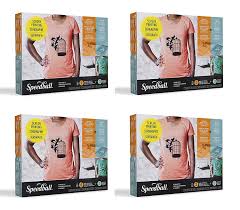 is a popular screen-printing kit that is very easy to use. For small projects, there are no other options to choose from except this.
This kit includes:
10 inches by 14-inch screen

Red and black inks

Drawing fluid

Screen filler

Speed clean

Photo emulsion

Sensitizer

Squeegee

Round brush

Craft sticks
A single speedball screen set only costs around $45 to $50.
5. Merchmakr in One screen printing kit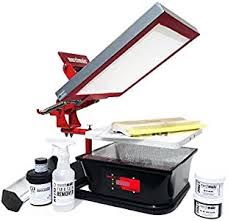 This screen-printing kit offers a press of hot-swap technology for multi-colored design.
The press makes the printing process much easier, and the entire process is almost identical to other emulsions using the system.
The matchmaker kit includes the following:
Printing press

Exposure unit with built-in light and timer

10 inches by 14-inch metal frame screen

Squeegee

Ten sheets of transparency film

Dual-core emulsion

Scoop coater

Emulsion remover

Black water-based ink, white water-based ink
This kit is priced higher, starting around $440-$450. But the other result is palpable, though.
6. Fancierstudio Swing Away 9″ into 12″ heat press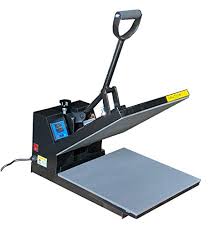 Unlike traditional heat press t-shirt machines, it is a modern solution for t-shirt printing media. It is a digital machine that works great for both commercial and domestic purposes.No matter if you are a small or big business entrepreneur, this digital machine can easily suit itself to any business.
The Fancierstudio heat press machine is straightforward to operate and provides ultimate durability. Its user experience design is so friendly and helpful that it makes it safe for its users. Besides, it includes a unique feature that is a swing away, allowing you to rotate the upper heat plate 360 degrees around. The machine is designed for long-term use and gives value to every single money of the user.
Key features of this product:
Voltage- 1100 V

Power- 1100 W

Temperature range- 0-500 Fahrenheit

Size- 9×12 inch

Weight- 28lbs

Length- 0″ -14″

Time control- 0-999 seconds

Easy to use in any garment project

Best to use for t-shirts, garments, bags, mouse mats, jigsaw puzzles, id bags, ceramic tiles, and other items.
7. Fancierstudio DG Heat Press Digital Sublimation T-shirt Heat Press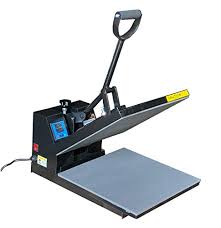 That is the brand-new model for professional heat press t-shirt designers. Fancierstudio is quite familiar with heat presses (t-shirt printing machines), and they have added many improvements, making them user-pleasant when used.
There is no stick coating on the heat platen; they also made it as a non-stick sheet.
Besides, the Upwork opening heat press model makes it harder to use in a small place. However, this machine is used for both commercial and non-commercial purposes.
One can use it as a personal item to print different t-shirts for various events and gift others.
Here are the key features of this product:
15 × 15 heat press sheet

Voltage- 110 V

Power- 1500 watts

Temperature range- 0 to 500 F

Time range- 0 to 999 seconds

Weight- 49lbs

Electronic time and heat control

Precise time set up

Silicone gel baseboard

Adjustable pressure

Teflon sheet included
8. ePhotonic Swing Away 9×12 Sublimation Transfer Heat Press Machine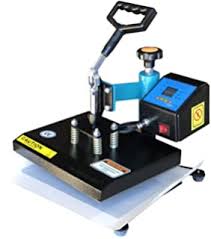 That is such a heat press machine designed for a large type printing business. E-Photonic is a popular name in the world of heat press machines. This machine is used with flat, surfaced items such as fabric, metal, wood, ceramic, and glass.
The design is suitable and makes it easy to use for any type of printing project. The internal elements of these machines are fully Teflon coated, reducing the chances of accidental electric contacts.
Key features of this product:
Voltage-110V

Power- 1400 W

Size- 9×12

Temperature range- up to 500 F

Time range- 0 to 999 seconds

Full 360-degree rotation of the swing arm

LCD with digital temperature and time display controller

Best for industrial and non-industrial as well
9.PowerPress 15×15 Industrial-Quality Digital Sublimation T-shirt Heat press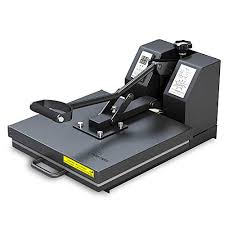 PowerPress 15×15 Industrial-Quality Digital Sublimation
This exclusive heat press machine best uses large-type printing materials according to size and shape.
For those who have determined to start a t-shirt printing business, this can be the best choice for them at a reasonable price. Easy-to-use user experience can provide quick detail after unboxing the machine and playing after a while. Although, you can transport it easily to different workplaces and wherever you want.
Check out these key features of this product:
Voltage-110 V

Power- 1400 W

Temperature range- 32 to 455F

Time range- 0 to 999 seconds

Printing area- 15×15 inch

Heating time- 10 to 15 minutes

Replaceable fuse to protect the machine from overheating and electric short

Teflon-coated heating plate

LCD with digital temperature and time display controller

Signal indicator

Maximum 360-degree endurance of the silicon pad without any distortion
10. Mophron Heat Press 5 in 1 Multi function Sublimation Combo Heat Press Machine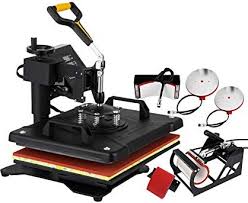 It is a digital multi-heat press machine used to heat press T-shirts, caps, ceramic plates and tiles, mugs, mousepads, canvas bags, wood, metal, fabrics, and other materials. That 5-in-1 multifunction heat press comes with one platen press, 1-hat press, 1-mug press, two plate presses, one silicon pad, and one cotton pad. It has adjustable pressure, making it suitable for even thicker clothes and materials.
Here are some key features of this machine:
Voltage- 110 V

Power- 900 W

Temperature range- 32 to 500-degree F

Printing Speed- 20 to 30 sec

Weight- 28 KG

Removable silicone pad and cotton pad

4/5″ thick heating board
Best Screen Printing Kits for Beginners
If you are new to screen printing, it is hard to decide which one is best suited to your screen printing business. Let us find out the best screen printing kits for beginners or the brand from many products from the market for you.
First Choice: SHZOND Screen Printing Press 4 Color 2 Station Silk Screen Machine 21.7″ x 17.7″
The first screen printing kit which is thought to be the best for beginners is SHZOND Screen Printing Press (4 Color 2 Station 21.7″ x 17.7″). Users praised it a lot and gave a high rating after using it. The affordable price of this nice screen printing press is provided installation tools, but the package offers no frame.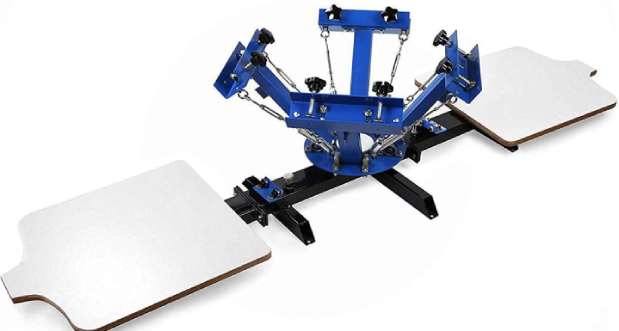 Its rational design is user-friendly. Space-saving in nature and easy transportation offer users to carry it wherever they go. Its rust-resistant metallic body is not very hard to keep clean. Platens can rotate independently without any deviation, and it is superb for stability as the balancing mechanism is well designed. It is equipped with an adjusting double spring tension device. The machine is used for screen frames of different weights and has a roller Position locking system and detachable shirt boards.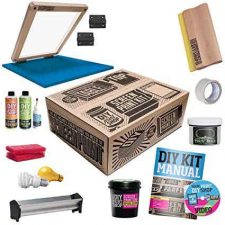 Second: VEVOR Screen Printing Press 4 Color 1
Secondly, we can suggest the Vevor 4 color 1 station screen printing machine for the newbies. The screen printing press is suitable for single-color t-shirt printing but simultaneously performs multiple-image printing. It has a table-type combinatorial design and a precise adjustment system. The durability of this machine is excellent. It is available with installation tools and manuals. The price is reasonable for beginners. Customers lauded this screen printing press due to its advanced safety system, which resists the damaging of cloths during the printing operation.
Third: Maxwolf Silk Screen Printing Press 4 Color 1 Station Double Spring T-shirt Press DIY
Maxwolf 4 colors 2-station screen printing press is the third one you can choose for your small business. It is also within a small budget. It's a versatile screen printer. Like the previously mentioned two brands, it is also durable in construction and has a perfect balancing mechanism. That is a low-price solution for screen printing. It is one of the best screen printing machines for t-shirts. You can buy this with a limited budget, but the expectation is to get a top-class screen printing machine.
Apart from the above, you may visit different platforms where screen printing machines are sold to get an illustrated idea. There you will be able to assess your necessities and the actual scenario of the market.
We tried to focus on the performance of screen printing equipment, budget, and suitability for beginners and individual entrepreneurs. If you are a new person in the world of screen printing, you may choose your first printing equipment based on the above discussion. It will help you not to get befooled in any way. And note that don't buy a machine for luxury to serve your purpose perfectly.
PowerPress 15″x15″ Heat Press Machine Industrial-Quality Digital Heat Transfer Press
Best Screen Printing Starter Kits
How does it possible to make screen printing on wearing cloth is a great wonder to all. It may also be called the printing graphics method from printing kits. Different screen printing kits are unique from each other depending on their model and performance brand. But you have to use the best equipment to get better work.
Screen Printing equipment
Screen printing is one technique by which a design is transformed through a mesh screen. Here also needed fabric ink. And this process is applied by a screen printing machine that uses a mesh screen to imprint the picture on the fabric using mighty lights.
Speedball Screen Printing Kit
Speedball is a tool to create industrial products, and it combines the best superior performance with value. It is a combination of an all-in-one kit. This printing kit has a range of beginner and introductory. The speedball is the only printing kit containing basically everything you need to find all things printing.
Best Screen Printing Michaela kit
The screen printing machine is just amazing. That allows transferring any design or logo to a product like a bag, hat, T-shirt, etc. Its long-lasting colors are the best compared to the heat press machine. This machine will give you the best printing solution of the highest quality, productivity, and precision.
Screen Printing Frame
The screen printing frame is an essential thing for screen printing. Its wrong choice may lead your screen printing task to a disastrous output. So, the proper selection of frames is necessary and essential. Frames are available from different materials like aluminum, wood, etc. But users prefer aluminum frames as they are light and durable. Aluminum frames are easy to clean too. Reconnect offers USA-made pre-stretched aluminum screen printing frames that are hand-cut, welded, firm, flat, and watertight. The frame's dimension calculates on the outer side. Wisely choose the thread count of the mesh. Generally, aluminum screens are best with a mesh thread count between 110 and 156. 110 thread count mesh is advised for printing opaque inks.
Speedball offers USA-made wooden frames for screen printing. Its screen printing frames have cord-locked screen fabric that can be tightened or replaced. These wooden frames consist of 110 monofilament polyester mesh of single-strand fibers with uniform construction and spacing. For the 4-color process work, it performs flawlessly. The price of the Speedball 10-inch-by-14-inch screen printing frame is $17.89. Customers lauded it highly due to its user-friendly design, especially for beginners.
Screen Printing Squeegee
A Squeegee is a tool having a flat and smooth rubber blade, and it is used to replace or control the liquid flow on a surface. It is used in screen printing to push ink through the screen mesh. Top-quality screen printing squeegees contain a high-quality polyurethane blade from a country of renowned origin country. There is a way of assessing the hardness of a squeegee, and it is a durometer. Companies offer a squeegee of the different durometers.
For example, Ryonet squeegees are of four durometer categories. 60, 70, 80, and 70/90/70 triple Durometer. A durometer indicates the hardness or rigidity of a squeegee, which gives an idea of the required pressure to push the ink through a screen mesh. With the increase of the durometer, the blade flexes less, whereas the lower durometer blade flexes more. Higher durometer squeegees contain blades that deposit less ink but are efficient enough to provide fine detail, i.e., four-color process prints. 90 durometer blades can provide light ink deposits and higher mesh count screens. Harder squeegees entirely sheer the ink, whereas squeegees with less durometer cause a heavier ink deposit.
So, choosing a suitable squeegee is crucial to attaining a perfect output. You should wisely select it depending on the necessity of the squeegee. Sometimes, you may need a square-shaped squeegee and a round or beveled-shaped squeegee. You can choose any one from soft to hard squeegee depending on your necessity. The material of the blade is also a factor to be considered. The squeegee blade may be of natural rubber, neoprene, or polyurethane. The squeegee handle has three kinds—metallic, plastic, and wooden.
Blade width and blade conditions impact the output quality heavily. Do not neglect them. Cleaning the squeegees from time to time ensures you increase the longevity of your squeegees and have less time to start the next task. So, always clean the squeegees at the end of each job.
Flash Dryer
Flash drying is a solution to the drying of powders at a high moisture zone, giving consistent drying. It is designed to use high temperatures to provide drying within a short time. Many types of flash dryers are available in the market in different brands. Small flash dryers are suitable for small-scale work, and industrial-grade flash dryers can do heavy jobs. During the application flash dryer, maintaining temperature is a big issue. You are advised to monitor closely to observe whether a consistent temperature prevails. If not, fix it first.
Screen Printing Flash Dryer
A Flash dryer is an important tool for a screen printing businessman. Its necessity becomes evident when you opt for multi-color printing. It also becomes essential in the case of plastisol application on a dark garment. A flash dryer becomes essential if you apply an under the base to apply vibrant plastisol on a dark shirt. From small-scale dryers to industrial-grade flash dryers are available in the market. For small business entities, lighter, smaller, and easily storable flash dryers are the best. Ryonet is offering you this type of flash dryer within your budget. Other available brands of flash dryers are Riley Hopkins, ROQ, etc.
Screen Printing Ink
Screen printers are indeed capable of multiple types of inks very nicely, but only a few types of inks are suitable for use on the garment. Our primary focus will be on the inks used for printing t-shirts.
Water-based and plastic inks are commonly used screen printing inks.
Let's discuss plastic inks first. Plastic ink is mainly accepted and used as screen printing ink in the USA due to its high opacity and capability of standing on the screen for a long time without drying. This ink is durable, flexible, and versatile, and These characteristics made this ink so famous. This ink comes straight up off the garment without any arching. Its specialty plastics bring the desired qualities as needed. Mixing small batches and checking them before making a big batch of ink is good.
Water-based ink is popular outside the US. This type of screen printing ink is so popular because it saturates the garment's fibers and dies the garment rather than resting on the top of the garment like plastic inks. In this way, it ensures a softer and more solid printing than plastics.
As water-based inks are thinner, they provide low opacity than plastic inks. So, if you want extra opacity, you should opt for plastics. Without a proper heat source, water-based inks do not dry easily as they solely cure via evaporation. It is tough to use this in arid environments. If you go for color customization, it must note that the color may not seem like before printing as their quality of semi-transparency.
Plastic inks require advanced knowledge of screen printing, but users of all levels of expertise can use water-based inks. If you can make a perfect combination, you can get superb performance from water-based inks.
There is another type of ink named discharge ink that performs by removing the dye of the garment with the pigment of the ink. It doesn't need base usage, which is why it has become trendy recently.
Screen printing inks of all categories are available in the market of different brands of different price ranges and quality. Among the famous screen printing ink brands, the name Speedball, Jacquard Vertex, etc., are mentioned.
Speedball Art Products 4560 Fabric Screen Printing Ink, 8 Fl. oz, Black is a water-based ink that performs best for paper and garments, especially for a t-shirt. 8 oz. jar of black ink costs $20.79. It is non-toxic and non-flammable.
Jacquard Versatex screen printing ink-4 oz.-Fluorescent Yellow costs $6.44.
FAQ
How to use the screen printing kit
Here is a walkthrough demonstrating the technique using the Screen Sensation Screen Printing Kit.
Place your screen design above the logo side of the screen sensation frame. Will face down when using the frame. Attach the tape to the top and bottom of the screen, pulling the screen right into place. Repeat to secure the rest of the screen.
Read More:
10-best heat press machine reviews.
5 Best Vinyl Cutting Machines to Buy
Fancierstudio Power Heat Press 15×15 Sublimation Digital Heat Press
Fancierstudio Power Heat Press
F2C Heat Press Reviews | 5-in-1 Combo Heat Press Machine T-Shirt Hat Cap Mug
10 Best Embroidery Machines for Beginners|Embroidery Machine Reviews