Screen Printing Kit
In the market, you will find a lot of screen printing kits. They are different from each other depending on the brand, model, capacity, performance, etc. There are a lot of famous brands for screen printing kit such as DIY print shop by Ryonet speedball, Jacquard Merchmakr, etc. Finding the best screen printing kits for your business needs close observation and intensive search based on reviews, price, and other factors.
Among the screen printing kits available in the market some are equipped with multiple numbers of stations that enable the users to do multi-tasking. Most screen printers provide the provision of printing t-shirts of multiple colors. For example, a 4 color 4 station screen printing machine can hold 4 screen plates simultaneously and capable of providing 4 colors overprinting.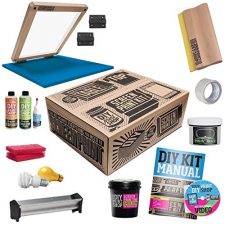 Price Variation of Screen Printing Kits
Price variation is very important here. You will find screen printing kits of different price range from low price to high price. So, it is easy for users to select the suitable one within the budget. For example, the VEVOR 4 color 4 station screen printing machine costs around $350 while SHZOND 4 color 1 station screen printing machine costs only $150. In fact, if you want a number of stations equipped with the machine then cost will definitely rise.
If you are searching for a suitable screen printing machine for tshirt printing business then you need to focus on some factors. Always select a model with a simple but durable design. Most models have all-metal construction with rust-resistant electroplating. Some brands offer space-saving screen printers which will enable you to set up the machine within a limited space. Easily installable models are very suitable for newbies.
Perfect Maneuverability & Warranty Service
Screen printing is a vast field of printing and if your intention is to cover items more than t-shirts then it should be get ensured that whether the screen printing machine you are going to purchase can serve your purpose.
If you tend to change your workplace frequently then choose a model that is suitable for transportation with perfect maneuverability. Some companies offer a long time warranty service with nice customer service. If your expectation is to get post-purchase service for a long time then you can opt for these brands.
Some screen printing machines are available with screens and in some cases, you will have to purchase screens separately. It will add your costing. Free shipping is provided during the purchase by most companies whereas some do not offer it. So, get this issue cleared before ordering.
Best Branks for Screen Printing Kits
It is difficult to choose the best one from a large variety of t-shirt printing machines. But, from different considerations, we can advise some best brands in the market. Superland 4 color 4 station silk screen printing machine is a highly rated one by customers due to its easy assembling facilities, smooth performance, and great customer service. It's nice and careful packaging protects the product during transportation. Its price is a little bit higher. You can also select the Ridgeyard 4 color 1 station screen printing machine which is specially designed for the individual entrepreneurs. Happybuy 4 color 1 station silk screen machine attained immense popularity for its reasonable price.
So, select one which is the best for your screen printing business.
Best Screen Printing Kits for Beginners
If you are new in the field of screen printing then it is hard for you to decide which one is best suited to your screen printing business. Let us find out the best screen printing kits for beginners or the brand from a lot of products from the market for you.
First Choice: SHZOND Screen Printing Press 4 Color 2 Station Silk Screen Machine 21.7″ x 17.7″
The first screen printing kit which is thought to be the best for the beginners is SHZOND Screen Printing Press (4 Color 2 Station 21.7″ x 17.7″). Users praised it a lot and gave a high rating after using it. The affordable price worth this nice screen printing press is provided with installation tools but no frame is offered with the package.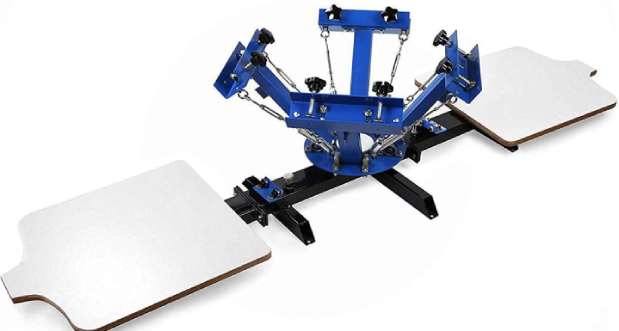 Its rational design is user-friendly. Space-saving in nature and easy transportation offers the users to carry it wherever they go. Its rust-resistant metallic body is not very hard to keep it clean. Platens are capable of rotating independently without any deviation. It is superb for stability as the balancing mechanism is well designed. Equipped with adjusting double spring tension device which makes the machine usable for screen frames of different weights. It has a roller Position locking system and detachable shirt boards.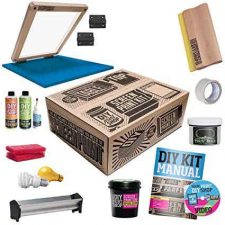 Second: VEVOR Screen Printing Press 4 Color 1
Secondly, for the newbies, we can suggest Vevor 4 color 1 station screen printing machine. The screen printing press is suitable for single color t-shirt printing but it also performs multiple image printing simultaneously. It has a table type combinatorial design and a precise adjustment system. The durability of this machine is excellent. It is available with installation tools and manuals. Price is reasonable for beginners. Customers lauded this screen printing press due to its advanced safety system which resists the damaging of cloths during the printing operation.
Third: Maxwolf Silk Screen Printing Press 4 Color 1 Station Double Spring T-shirt Press DIY
Maxwolf 4 color 2 stations screen printing press is the third one that you can choose for your small business. It is also within a small budget. It's a versatile screen-printer. Like previously mentioned other two brands it is also durable in construction and contains a perfect balancing mechanism. This is a low-price solution for screen printing. It is one of the best screen printing machines for t-shirts. You can buy this if you have a limited budget but the expectation to get a top-class screen printing machine.
Apart from the above, to get an illustrated idea you may visit different platforms where screen printing machines are sold. There you will be able to assess your necessities and real scenario of the market.
We tried to focus on the performance of screen printing equipment, budget, suitability for beginners and individual entrepreneurs. If you are a new person in the world of screen printing you may take the decision of choosing your first printing equipment based on the discussion we did above. It will help you not to get befooled in any way. And note that again don't buy a machine for luxury but for the intention of serving your purpose perfectly.
PowerPress 15″x15″ Heat Press Machine Industrial-Quality Digital Heat Transfer Press
Screen Printing Frame
The screen printing frame is a very important thing for screen printing. Its wrong choice may lead to your screen printing task to a disastrous output. So, the proper choice of frame is not only important but also essential. Frames are available of different materials like aluminum, wood, etc. but, aluminum frames are preferred by the users as they are light and durable. Aluminum frames are easy to clean too. Reyonet offers the USA made pre-stretched aluminum screen printing frames. Those frames are hand-cut and welded, strong, flat, and watertight. Frame's dimension is calculated at the outer side. The thread count of the mesh should be wisely chosen. Generally, aluminum screens are best with a mesh thread count between 110 and 156. 110 thread count mesh is advised for printing opaque inks.
Speedball offers the USA made wooden frames for screen printing. Its screen printing frames have cord-locked screen fabric that can be tightened or replaced. These wooden frames consist of 110 monofilament polyester mesh consists of single strand fibers with uniform construction and spacing. For the 4-color process work, it performs perfectly. The price of the Speedball 10-inch-by-14-inch screen printing frame is $17.89. Customers lauded it highly due to its user-friendly design, especially for the beginners.
Screen Printing Squeegee
A Squeegee is a tool having a flat and smooth rubber blade and it is used to replace or control the liquid flow on a surface. It is used in screen printing to push ink through the screen mesh. Top-quality screen printing squeegees contain a high-quality polyurethane blade of a renowned origin country. There is a way of assessing the hardness of a squeegee. It is a durometer. Companies offer a squeegee of different durometer.
For example, Ryonet squeegees are of four durometer categories. 60, 70, 80, and 70/90/70 triple Durometer. Durometer indicates the real hardness or rigidity of a squeegee which gives an idea regarding the required pressure to push the ink through a screen mesh. With the increase of durometer, the blade flexes less where the lower durometer blade flexes more. Higher durometer squeegees contain blades that deposit less ink but efficient enough to provide fine detail i.e. four-color process prints. 90 durometer blades can provide light ink deposit as well as higher mesh count screens. In fact, harder squeegees completely sheer the ink whereas squeegees with less durometer cause a heavier ink deposit.
So, choosing the right squeegee is very important to attain a perfect output. You should wisely select it depending on the necessity of squeegee. You may need square-shaped squeegee sometime and round or beveled shaped squeegee sometime. From soft to hard squeegee you can choose any one depending on your necessity. The material of the blade is also a factor to be considered. Blade of the squeegee may be of natural rubber, neoprene, or polyurethane. The handle of the squeegee is of three kinds. Metallic, plastic, and wooden.
Blade width and blade conditions impact the output quality heavily. Do not neglect them. Cleaning the squeegees from time to time ensures you increase the longevity of your squeegees and less time to start the next task. So, always emphasize on cleaning the squeegees at the end of each task.
Flash Dryer
Flash drying is a solution to the drying of powders at a high moisture zone giving a consistent drying. Flash dryers are designed to use high temperatures to provide drying within a very short time. There are many types of flash dryers available in the market of different brands. Small flash dryers are suitable for small scale works and industrial-grade flash dryers are capable of doing heavy jobs. During the application flash dryer maintaining temperature is a big issue. It is advised to monitor closely to observe whether a consistent temperature prevails. If not fix it first.
Screen Printing Flash Dryer
Flash dryer is an important tool for a screen printing businessman. Its necessity becomes evident when you opt for multi-color printing. It becomes also important in the case of plastisol application on a dark garment.  If you apply an under base for the purpose of applying vibrant plastisol on a dark shirt then flash dryer becomes essential. From small scale dryers to industrial-grade flash dryers are available in the market. For small business entities, lighter, smaller, and easily storable flash dryers are the best. Ryonet is offering you this type of flash dryer within your budget. Other available brands of the flash dryer are Riley Hopkins, ROQ, etc.
Screen Printing Ink
It is true that screen printers are capable of multiple types of inks very nicely but, only a few types of inks are suitable for use on the garment. Our main focus will be on the inks which are used for printing t-shirts.
Water-based and plastisol inks are commonly used screen printing inks.
Let's discuss on plastisol inks first. Plastisol ink is mostly accepted and used screen printing ink in the USA due to its high opacity and capability of standing on the screen for a long time without drying. This ink is durable, flexible, and versatile in nature. These characteristics made this ink so popular. This ink comes straight up off the garment without any arching. Its specialty plastisols bring the desired qualities as needed. It is good to mix small batches and check them before making a big batch of ink.
Water-based ink is popular outside the US. This type of screen printing ink is so popular because of its characteristic of saturating the fibers of the garment and dying the garment rather than resting on the top of the garment like plastisol inks. In this way, it ensures a softer and more solid printing than plastisols.
As water-based inks are thinner in nature the provide low opacity than plastisol inks. So, if you want an extra opacity then you should opt for plastisols. Without a proper heat source, water-based inks do not dry easily as they solely cure via evaporation. It is tough to use this in arid environments. If you go for color customization it must be noted that the color may not seem like before printing as their quality of semi-transparency.
Plastisol inks require an advanced level of knowledge on screen printing but water-based inks can be used by users of all levels of expertise. If you can make a perfect combination then you can get superb performance from water-based inks.
There is another type of ink named discharge ink that performs by removing the dye of the garment with the pigment of the ink. It doesn't need base usage and this is the reason it became highly popular in recent years.
Screen printing inks of all categories are available the market of different brands of different price range and quality. Among the famous screen printing ink brands the name of Speedball, Jacquard Versatex, etc. are mentionable.
Speedball Art Products 4560 Fabric Screen Printing Ink, 8 Fl. oz, Black is a water-based ink and it performs best for paper and garment especially for a t-shirt. 8 oz. jar of black ink costs $20.79. It is non-toxic and non-flammable.
Jacquard Versatex screen printing ink-4 oz.-Fluorescent Yellow costs $6.44.
Read More:
10 best heat press machine reviews.
5 Best Vinyl Cutting Machines to Buy
Fancierstudio Power Heat Press 15×15 Sublimation Digital Heat Press