Screen Printing Kit
In the market, you will find a lot of screen printing kits. They are different from each other depending on the brand, model, capacity, performance, etc. There are a lot of famous brands for screen printing kit such as DIY print shop by Ryonet speedball, Jacquard Merchmakr, etc. Finding the best screen printing kits for your business needs close observation and intensive search based on reviews, price, and other factors.
Among the screen printing kits available in the market some are equipped with multiple numbers of stations that enable the users to do multi-tasking. Most screen printers provide the provision of printing t-shirts of multiple colors. For example, a 4 color 4 station screen printing machine can hold 4 screen plates simultaneously and capable of providing 4 colors overprinting.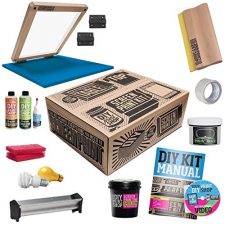 Price Variation of Screen Printing Kits
Price variation is very important here. You will find screen printing kits of different price range from low price to high price. So, it is easy for users to select the suitable one within the budget. For example, the VEVOR 4 color 4 station screen printing machine costs $310 where Ridgeyard 4 color 1 station screen printing machine costs only $150. In fact, if you want a number of stations equipped with the machine then cost will definitely rise.
If you are searching for a suitable screen printing machine for tshirt printing business then you need to focus on some factors. Always select a model with a simple but durable design. Most models have all-metal construction with rust-resistant electroplating. Some brands offer space-saving screen printers which will enable you to set up the machine within a limited space. Easily installable models are very suitable for newbies.
Perfect Maneuverability & Warranty Service
Screen printing is a vast field of printing and if your intention is to cover items more than t-shirts then it should be get ensured that whether the screen printing machine you are going to purchase can serve your purpose.
If you tend to change your workplace frequently then choose a model that is suitable for transportation with perfect maneuverability. Some companies offer a long time warranty service with nice customer service. If your expectation is to get post-purchase service for a long time then you can opt for these brands.
Some screen printing machines are available with screens and in some cases, you will have to purchase screens separately. It will add your costing. Free shipping is provided during the purchase by most companies whereas some do not offer it. So, get this issue cleared before ordering.
Best Branks for Screen Printing Kits
It is difficult to choose the best one from a large variety of t-shirt printing machines. But, from different considerations, we can advise some best brands in the market. Superland 4 color 4 station silk screen printing machine is a highly rated one by customers due to its easy assembling facilities, smooth performance, and great customer service. It's nice and careful packaging protects the product during transportation. Its price is a little bit higher. You can also select the Ridgeyard 4 color 1 station screen printing machine which is specially designed for the individual entrepreneurs. Happybuy 4 color 1 station silk screen machine attained immense popularity for its reasonable price.
So, select one which is the best for your screen printing business.
Best Screen Printing Kits for Beginners
If you are new in the field of screen printing then it is hard for you to decide which one is best suited to your screen printing business. Let us find out the best screen printing kits for beginners or the brand from a lot of products from the market for you.
First Choice: SHZOND Screen Printing Press 4 Color 2 Station Silk Screen Machine 21.7″ x 17.7″
The first screen printing kit which is thought to be the best for the beginners is SHZOND Screen Printing Press (4 Color 2 Station 21.7″ x 17.7″). Users praised it a lot and gave a high rating after using it. The affordable price worth this nice screen printing press is provided with installation tools but no frame is offered with the package.
Its rational design is user-friendly. Space-saving in nature and easy transportation offers the users to carry it wherever they go. Its rust-resistant metallic body is not very hard to keep it clean. Platens are capable of rotating independently without any deviation. It is superb for stability as the balancing mechanism is well designed. Equipped with adjusting double spring tension device which makes the machine usable for screen frames of different weight. It has a roller Position locking system and detachable shirt boards.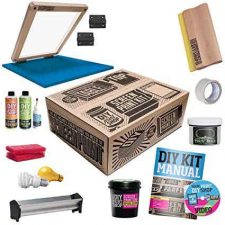 Second: VEVOR Screen Printing Press 4 Color 1
Secondly, for the newbies, we can suggest Vevor 4 color 1 station screen printing machine. The screen printing press is suitable for single color t-shirt printing but it also performs multiple image printing simultaneously. It has a table type combinatorial design and a precise adjustment system. The durability of this machine is excellent. It is available with installation tools and manuals. Price is reasonable for beginners. Customers lauded this screen printing press due to its advanced safety system which resists the damaging of cloths during the printing operation.
Third: Maxwolf Silk Screen Printing Press 4 Color 1 Station Double Spring T-shirt Press DIY
Maxwolf 4 color 2 stations screen printing press is the third one that you can choose for your small business. It is also within a small budget. It's a versatile screen-printer. Like previously mentioned other two brands it is also durable in construction and contains a perfect balancing mechanism. This is a low-price solution for screen printing. It is one of the best screen printing machines for t-shirts. You can buy this if you have a limited budget but the expectation to get a top-class screen printing machine.
Apart from the above, to get an illustrated idea you may visit different platforms where screen printing machines are sold. There you will be able to assess your necessities and real scenario of the market.
We tried to focus on the performance of screen printing equipment, budget, suitability for beginners and individual entrepreneurs. If you are a new person in the world of screen printing you may take the decision of choosing your first printing equipment based on the discussion we did above. It will help you not to get befooled in any way. And note that again don't buy a machine for luxury but for the intention of serving your purpose perfectly.
Read More:
10 best heat press machine reviews.