Descriptions of Ridgeyard 4 Color 1 Station Screen Printing Machine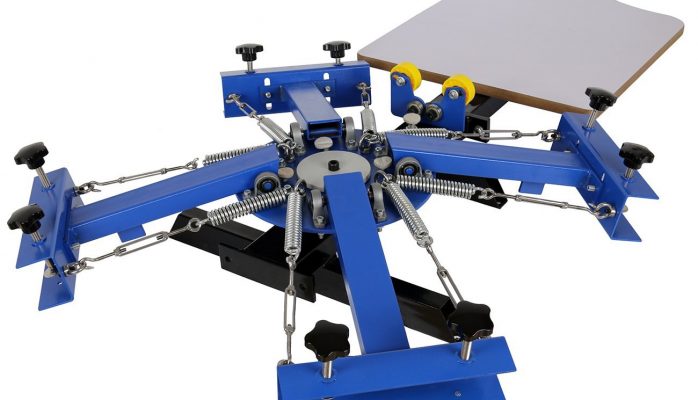 Ridgeyard screen printing press, 4-color 1-station rotary silk screen printing machine; especially suitable for small businesses, can rotate relatively after installation and can install four screen printing plates. This 4-color screen printing press can perform four overprints simultaneously and design proof for a screen-printing workshop or screen-printing business.
This best t-shirt printing machine (4 colors 1 station) is suitable for printing on flat screen press and various overprinting substrates. It can mainly be applied to T-shirts. The T-shirt pallet is exceptional in this silk screen printing machine, and at the time, the t-shirt printing machine is more convenient and accurate for location.
Even the 4-color 1-station rotary silk screen printing press and t-shirt printing machine can print on various plane products and clothing, glass, wood, ceramic tile, woven, metal, paper, leather, copybook, and plastic. The Ridgeyard 4-Color 1-Station Screen Printing Press DIY T-Shirt Processing Machine is especially suitable for individual screen printing workshops or small businesses.
Main Features
Model: NS401-S 4-color 1-station t-shirt DIY screen-printer.

Pallet size : 450 x 550mm

Detachable shirt boards.

Adjustable double-spring devices are available for screen frames of different weights.

Roller Position locking for accurate color registration

Platen size: 21.7 X 17.7 Inch(55*45cm);

The press is easy to clean, has no rust all-metal constructed, advanced electrostatic spraying and 

electroplating

, and is durable.

Rational construction is simple and more practical.

Screen printing platens of the silk press can use rotary freely upon installation, with higher efficiency and easy operation.

A super supporting device with the 4-colors 1 station press makes the t-shirt press machine stable and balanced.

Different weight screen frames can perform on the press due to the device adjusting double spring tension.
Pros:
More practical, rational construction and simple,

Convenient for transportation, adopt combination design,

It Saves place.

The 4-color 1-station rotary machine is all-metal constructed.

The screen printing press has advanced electrostatic spraying and electroplating,

The press is durable, easy to clean, and has no rust.

All pieces of equipment of Ridgeyard silk press are perfectly packaged,

All metal parts are separately packaged, providing safety guarantees for products during transportation, especially for exportation.

The double spring tension adjustment device makes the 4-color 1-station rotary silk screen printing press available for different weights screen frames.
Cons:
The price is a bit high for small businesses.

The hardware may not match the video.

The great weight of the head
Buyers Reviews for Ridgeyard 4 Color 1 Station Silk Screen printer
Find Here Related Articles of T-Shirt Screen Printing machine:
Find Here Related Articles on T-Shirt Screen Printing machines:

Related Articles About Silk Screen Printing Machine:
Read More Reviews:
Top 10 best heat press machine