Having a t-shirt screen printing machine you can print t-shirts very easily and conveniently. In fact, it is one of the easiest methods of t-shirt printing. But, with a screen printing machine, there remain some responsibilities to its users. It is maintenance. It is one of the most overlooked issues in this screen printing industry. A well-maintained t-shirt screen printing equipment can only ensure a smooth production with a high rate of productivity with a prolonged lifetime. There are some rules and tricks for conducting the maintenance of your t-shirt screen printing machine. Today, we shall discuss this topic.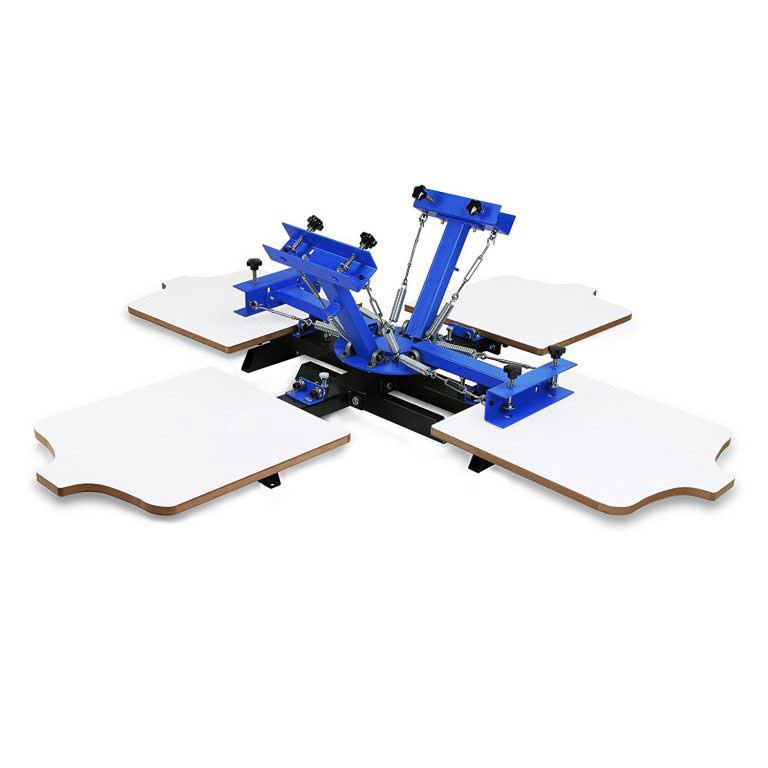 Use Different Technique
There are many types of t-shirt screen printing machines in the market and you need to fix the techniques for each printing equipment sincerely. The maintenance technique for a 4 colour screen printing press is different from a 4 colour 2 stations screen printing press or a 6 colour screen printing press. So, think and decide wisely.
Establish the T-shirt Screen Printing Machine in a Controlled Environment
To achieve a perfect performance from your t-shirt printing machine, set it up at a place where you can control the temperature and humidity easily. Because your press and screen's performance will be affected seriously due to uncontrolled temperature and humidity.
Emphasize Keeping the T-shirt Screen Printing Machine Clean
It is a very important issue that we always neglect to keep the t-shirt screen printing machine neat and clean. You will experience a huge amount of lint, dirt, debris accumulation if you use a screen printing machine for shirts and it will affect the printing quality heavily. So, you should clean them from time to time. We suggest doing this at the end of everyday printing. It will not let the wastes to be accumulated. You should use vinyl or latex gloves during cleaning the machine. Keep the things accordingly in a sequence maintaining an inventory. It will help you to do the cleaning in a short period of time.
Lubricate Regularly
Platen heads and arms need lubrication regularly. If you keep your machine unused for a long time then, of course, lubricate it before again going to the printing operation. You need to find out the places in your t-shirt screen printing machine where lubrication is necessary. To do this, you may take assistance from the manufacturer's guidelines. It should be noted that over and under lubrication both are detrimental to your t-shirt screen printing machine.
Always follow the Manual of Screen printing
Before doing any major maintenance at home, you should stick to the guidelines provided by the manufacturer in the provided manual. Generally, all manufacturers provide required instructions regarding what to do and what not to do during maintenance of the equipment. It will save your t-shirt screen printing machine from any probable complexity during the maintenance operation.
Keep Backup Parts at Hand
It is possible to occur any accident and you may need to do some urgent t-shirt printing task. You may face such an incident when you are feeling to stop production and do the maintenance but you are in short of a part. So, always try to keep a backup or spare parts at hand so that you can replace the damaged or yet to damage parts before possible breakdown.
Keep a Maintenance Log
You can maintain a log attached to the machine telling the schedule of maintenance and assigned persons. Updating and monitoring are very important. It will help you to track the maintenance work of your t-shirt screen printing machine. If you have a lot of screen printing machines then you can assign a person to inspect this task. To keep your valuable production equipment in sound condition providing maximum production this task is very crucial.
Regularly Inspect the Squeegees
We always suggest building a habit of inspecting squeegees daily. There are some factors that affect the performance of squeegees. They may be dull by the abrasion from the screens. Some inks contain chemicals or harsh in nature to make the squeegees degrade. It is very important to replace the damaged squeegee as soon as possible. We need to alter the sides of a blade and also need to use a maximum of four hours at a stretch.  After cleaning a squeegee it should be stored at room temperature. If you do the required inspection of the squeegees of your t-shirt screen printing machine then you will experience the boosting of production and prolonged lifetime of your equipment.
TuneUp the Arms
You should be very careful about the arms of your t-shirt screen printing machine. Bearings should be kept free from lint and dust and they need to be lubricated from time to time. If needed, we should change them once a year. Very closely observe the lower off-contact bolts. If they are not in perfect condition, fix them. Platen lock handles should be in such a condition that they would not let the platen move during the printing operation. Check at least once a month and bring the required adjustments to this if needed. To check the levelling of the platen use bubble level.
Monitoring the Heads of Your T-shirt Screen Printing Machine Equipment
The Head is a crucial part of your t-shirt screen printing equipment and you should monitor this part of your printer very carefully. Get ensured while checking that whether the springs on the heads are tight enough to hold the completely loaded screen in the air. If the spring shows any damage or defect it should be replaced immediately to avoid a further accident from it.
Apply lubrication to the front and back off-contacts with suitable lubrication at least once a month. During this job don't forget to check the level.
It is also important to lubricate micro register adjustments once a month. This is also valid for locking handles. Replace any part if you see them stripped or broken.
Hex bolts should remain in tightened condition. This should be included in your daily maintenance schedule to check this. If it gets loose fixing is essential.
Check the Level of the Platens Regularly
Forgetting a perfect finished product the platform on which you are going to work should be levelled. Otherwise, you are going to print on an inclined surface. So, keeping the platens in a levelled state is very important. With the available arrangements, you can check the level very easily. And, we should do this task at least once a month.
Sorting and Storing Screens 
Though screens are not a direct part of your t-shirt screen printing machine, it is essential to use good quality screens to keep your machine in perfect condition and to get a perfect output. Always try to sort the screens alphabetically and it will help you to find out your desired one within a very short period of time. Always try to store them after doing the required cleaning. It is the best practice to do this cleaning task at the end of everyday printing.
Use an Exclusive Place for Storing
Screen printing needs a lot of manual tasks and also there are many tools that are involved in the printing process. You can manage them all if you use a dedicated place for storing them. Tools like ink scoops, squeegees, tapes etc. should be stored at a fixed place sequentially so that you can handle them easily.
Keep Eye on Warranty Conditions for the T-shirt Screen Printing Machine
Daily maintenances are minor in nature like cleaning, removing dirt, etc. But, if you want to conduct any major maintenance tasks with your t-shirt printing machine, then you should definitely follow the warranty conditions. Because, if you breach any condition required to get the warranty facility then the service provider will refuse to give warranty support. In fact, periodic maintenances are rigorous in nature. Before doing this, instruct the person who is doing this very carefully. If you observe any amazing part during any part of the warranty period don't do it yourself.
In fact, maintenance is an issue that is neglected in general cases. Screen printing is a very common and familiar method of t-shirt printing and the persons involved in this sector have to pass a very tight work schedule due to the huge workload. So, conducting daily maintenance is a challenging task. But, you need to ensure to prolonging the life of your screen printing machine for the t-shirt.
In addition to the above, we need to do periodic maintenance on a weekly, monthly or quarterly basis. It will ensure the smooth performance of your machine over the years by rectifying the errors and faults that your machine gains by performing continuous production.
So, our above discussion is solely intended to enlighten your idea on the maintenance of commercial screen printing equipment. It would only be fruitful if you really take the necessary steps to perform regular maintenance tasks at your workplace. It would not only save your t-shirt screen printing machines but also make you benefited by boosting the production.
Find Here Related Articles of T-Shirt Screen Printing machine:
Read Our Other Articles: