Superland Silk Screen Printing Machine 4 Color 4 Station 4 color 4-stations screen printing press
This Superland silk screen machine is a table type 4 color 4 station screen printing press. This single Rotary silk screen press machine can install upon four screen plates simultaneously. Upon installation, the screen layer can rotate independently. This 4-color 4 station screen printing kit can work for four colors screen printing or any' overprinting to make progressive proofs.
This super land t-shirt silk screen machine (4 Color 4 Station screen press) is perfect for a screen print on woven fabric, costume, leather, copybook, plastics, metal, wood, paper, glass, ceramic, and other flat printing products.
Why do you Buy the Superland Silk Screen Press 4 Color 4 Station Printing Press?
The silkscreen machine comes with a simple design, but it is rational. This silkscreen press printer is also more practical construction. This screen printing equipment (4-color, 4-station) has a significant supporting device that keeps the silk printer machine stable and balanced.
This Superland silk screen printing machine 4-color 4-stations screen printing press is table type and combinatorial design that saves place. The Silkscreen press has adjustable double-spring devices, which are (matched) for screen frames of different weights.
Superland 4 Color 4 station (Silk Screen) Printing Machine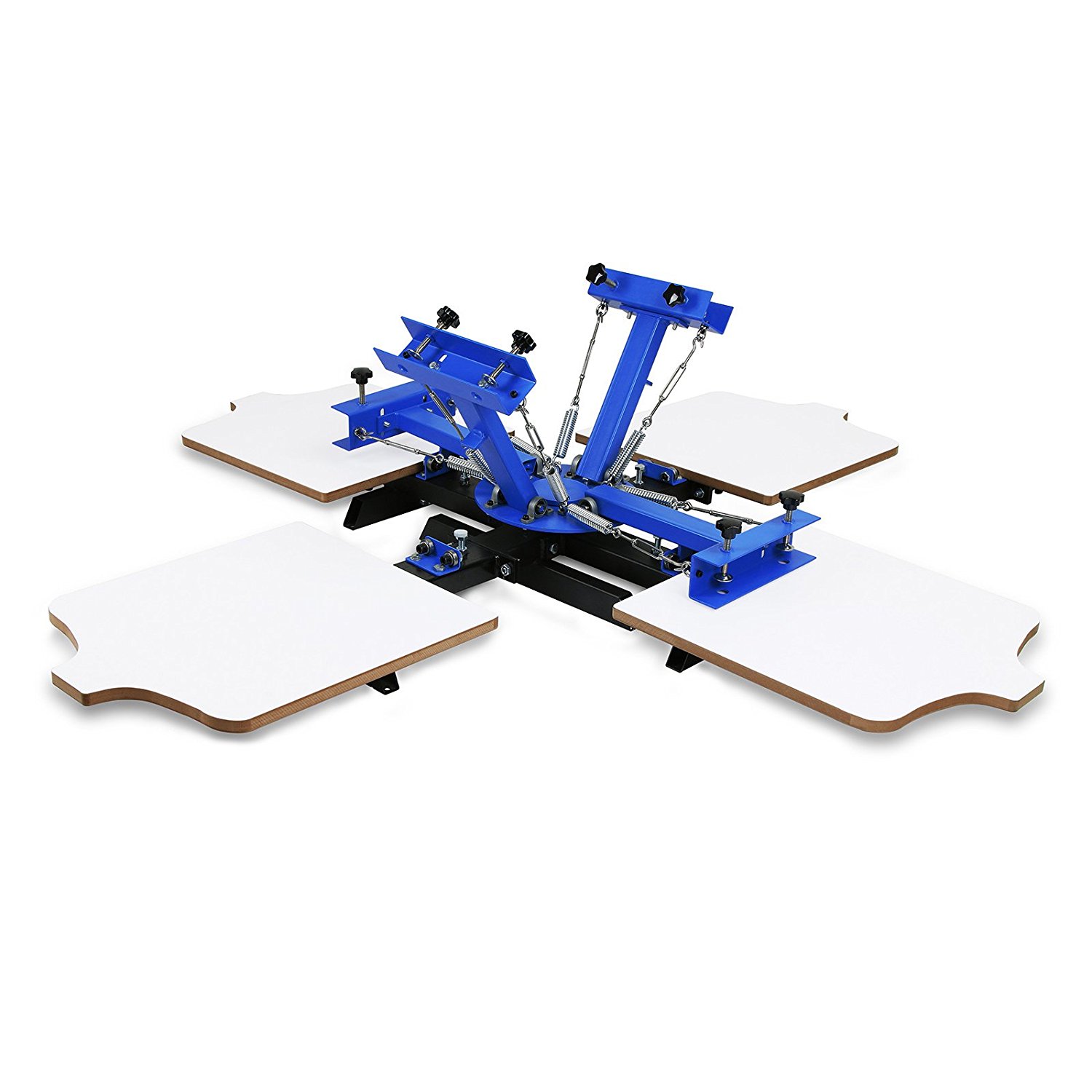 Features of Superland 4 Color 4 Station Silk Screen Printing Machine
Adjustable double devices are (adjusted) for the screen frames (different weights) of the silk screen printing machine.

The silkscreen printer is fully metal-constructed.

The equipment (is sprayed) with advanced electrostatic spraying and electroplating.

This screen printing press(4-color 4-station) is easy to clean, durable, and has no rust.

package Details of Superland 4 color 4 Stations Screen Printing Press
The screen printing machine (is) packaged perfectly. It is (packaged) with a high-strength corrugated carton (five-layer), and the equipment inside (is) packed with the three-ply board and standard soft and rigid foam. Its guarantees product safety during transportation. The metal parts of the screen press (are) packaged separately.
Specifications of Superland 4 color 4 Stations Silk Screen Printing Press
Machine size: 56x56x7″ (142cmx142cmx16.8cm)

Platen size: 17.7″x21.7″ (45x55cm)

Shipping Weight: 103.2Lb (46.8kg)

Package sizes: 28″x24″x20″(70cmx60cmx50.5cm)

Screen printing platen size: 21.7 x 17.7 Inch; Machine size: 56 x 56 x 7 Inch
Pros:
Equipped with the complete set of installing tools, installation and operation videos, manual instructions,

The Flash Dryer machine is 18×18 Inches with Temperature Display

dryer maintains a pretty consistent heat

well constructed and easy to put together

Easy to assemble and Screen large enough for your needs

convenient for transportation
Cons:
The price is a little high for the beginners

The plate size looks big enough
If you are looking for a heat press (t-shirt printing machine), visit 10 Best Heat Press Machine Reviews.
Most Recent Buyers Reviews Superland silk Screen Printing Machine
Related Articles About Silk Screen Printing Machine: