Introduction of Happybuy Silk Screen Printing Machine 
The Happybuy 4 colo silk screen printing machine is affordable for versatile screen printing. Nearly all substrate things can be printed on it. For small screen printing shops, this 1 station 4 color silk screen printing machine is perfect, whether it is for volume printing or multi-color printing, this screen printing equipment can also help as an ideal solution for giving backup to the larger screen printing companies. This printing press can be the first choice for the beginner screen printing businessmen. This equipment is designed and manufactured with highly sustainable materials. After assembling the press, there is no need to maintain it. At a time you can install this screen printing press in four screen plates. The screen layer of the press is rotatable independently while installing it.  Then the users find its availability for 4 colors' overprinting to get progressive proofs.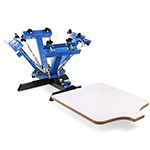 Product Details Happybuy Silk Screen Printing Machine Press
This Happybuy Screen Printing Machine 4 Color 1 Station has a 16″x16″ flash dryer for more convenient screen printing. The flash dryer comes with a 16 x 16″ heating grid opening, a standard plug, and wheels, so you don't require any special wiring. The users can raise or down the unit 30 to 48 inches. This 1 station 4 color silk screen printing machine has the ability to heavy duty. In the below (at distance of 3″) the flash heating element, the heat or temperature is over 400 degrees F. For the silkscreen printing, it can easily cure plastisol ink. Its base diameter is about 38" and it is ultra-heavy duty silk screen printing press. The press has a standard 32″ doorway to easily roll thru. The machine has a flash dryer only about 2/3 the weight of the press. As it is much lighter, its base may require big diameter over 50″ to prevent tipping over.
You may find a bit of inconvenience because the screen printers may require tripping or be kicking the flash dryer until running the 4 color 1 station silk screen printing press. The base of the flash dryer is compact but as it is heavy, it will not tip over.

Item Specifications of Happybuy Silk Screen Press
Screen printing machine size: 32*7.9*55″ (82*20*140cm), Arm Length: 13.25″ inches, Arm Width: 10″ inches, Platen size: 21.7*17.7″ (55*45cm). T-shirt board: W 18″ x L 21.5″ inches, Max Screen thickness: 2″ inches
Double spring devices are adjustable, screen frames are of different weight. For easy drying and taking out the product, there is 360-degree level swivel head.
Item Specifications of flash dryer
Base Dimensions: 38″ x 38″, Top Dimensions: 29″ x 19″, Heating Area: 16″ x 16″ , Average Current Draw: 13 Amps, Maximum Current Draw: 16.5 Amps, Average Power Usage: 1350 Watts. Maximum Power Usage: 2000 Watts, Input Power: 110V/60Hz, Max Temp: 200 degrees Celsius, Suggest Temp Range: 140-180 degrees Celsius
Package Content
1 set of 4 colors 1 station screen printing press, 1 X Head, 4 X Base Leg.  Also having 1 X Below Support Bar, 1 X Top Support Bar, 4 X Caster, 2 X Handle, 8 X Screw For Base Legs, 1 X Base Leg Support Plate, Some Tools
Pros:
It heats consistently and the dryer dries ink quickly.
It has good work efficiency and it can work with multi-color screen printing machine
This press is simple to use and well-constructed
Well-constructed dryer and inks dry quickly
This dryer can manage a pretty consistent heat and it uses infrared light, the fan will blow the heat,
Pattern over the screen transfer correctly
Corns:
Product price is little high for beginners
It may need to use your common knowledge to figure out press but can easily do it if you watch instructions on YouTube
Suitable for small business and hobby
Have to watch video on YouTube to assemble the press
 Customers Reviews: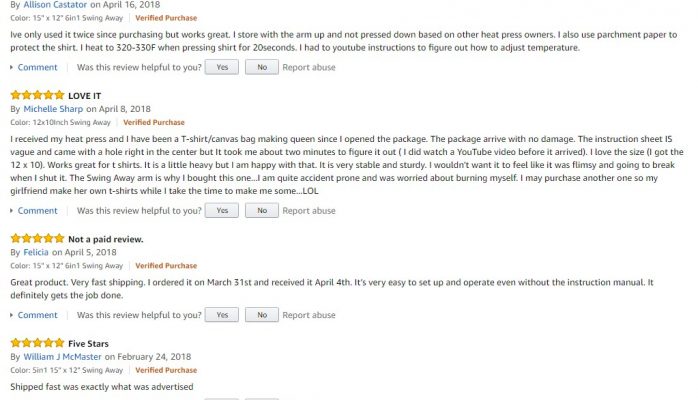 Related Articles About Silk Screen Printing Machine:
Read More Reviews:
1.6 Color 6 Station Double Wheel Screen Printing Machine T-shirt Heavy Duty DIY