Screen Printing vs Embroidery : Comparison of Price, Pros, Cons
Embroidery and screen printing are the two main methods (screen printing vs embroidery) for adding logos to clothing. With embroidery, the logo is reproduced by sewing the threads directly on the fabric. The actual sewing process is completely automatic and performed by computerized embroidery machines. Most commercial embroidery machines have 12 or more sewing heads with a maximum of 15 needles per head.
Check out our 10 the best embroidery machine for beginners
This means that it is possible to embroider 12 garments simultaneously and that the logo can use up to 15 thread colors. The first process is to create a program for your logo. This is called digitization. The final result is a program or logo file that can be loaded into the embroidery machine and tells the machine what to sew. The machine operator manually loads and loads the clothes into the machine.
With screen printing, your logo is reproduced by crushing the inks through mesh screens directly on your clothes. A separate mesh screen is needed for each colour of the logo, so designs with many colors cost more than simple colour drawings.
Get Best Screen Printing Kits for Beginners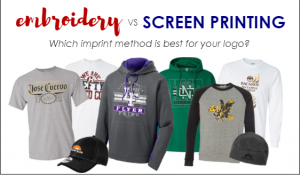 Like embroidery, the screen printing process has been partially automated, but the operator individually loads and unloads the garments. Once printed, each garment travels through a tunnel dryer that cares for or sets the impression.
When you consider which method of decoration to use for your clothes, you are probably interested in two main things.
Which method is more economical?
Which method is best?
The comparison of Price
Often, the first thing we are asked is There is no doubt in the fact that you will need to compare between screen printing and embroidery in terms of price.
The answer depends on the complexity of the logo and the quantity of garments. In general, embroidery is cheaper for pocket logos, particularly for more quantities small (less than 100 items) and for logos of different colours.
The installation cost for most embroidered logos is a fixed rate and does not vary according to the number of colours in the logo.
The installation cost for screen printing depends on the colour: a new grid is required for each colour of your logo, and when printing logos for screen printing on coloured shirts, a "basic print" is required, think of it as an inner layer.
So, for example, a White printing on a black shirt requires 2 screens, since the cost of installing a typical embroidered logo is almost equal to the cost of a single screen, embroidery is generally cheaper to install.
The exceptions are large logos because they can take tens of thousands of points to create. They require much more machine time and use more threads to make it much more expensive. Screen printing of large designs and logos is cheaper. The cost scenario also changes for large quantities. Installation costs for screen printing become accidental and printing costs become economical.
(Screen Printing vs embroidery)Comparison on the basis of Results.
Apart from the costs, which method will give you the best result?
The answer to this question depends on the garments that are decorated. For shirts and work polo shirts, embroidery is generally the best option.
Embroidery is generally better for caps and warm clothes. An exception to the rule are the poles, usually by tradition, where a large logo is required on the back of the shirts; Screen printing can be a better solution for this.
For t-shirts and light clothing, screen printing is the best option. Embroidery is often too heavy for t-shirts and one can notice some kinds of ruffling around the logo because the stitching creates tension.
Silk-screen printing has a "softer handle" than embroidery, which makes it much better for large logos and designs. And this adapts to T-shirts because they have a large area of ​​decoration both in the front and in the back.
In summary, embroidery is the best option for work shirts, polo shirts, caps and jackets. Screen printing is the best option for large shirts, sweatshirts and logos.

PRO AND CONS OF EMBROIDERY
Embroidery is the process or sewing of a logo on a piece of fabric, such as a shirt, a jacket or a hat. Embroidery is a great way to personalize your organization's clothes. It is clean, crisp and highlights your logo, making it an excellent choice for professional organizations.
In addition, embroidery is durable. If done correctly, it will not fade or get trapped after continuous washing. Instead, your embroidery will become a permanent part of the fabric of your clothes. Despite the advantages, embroidery is not the ideal option for every project. In general, embroidery is more expensive than screen printing.
For large projects, some organizations opt for screen printing. In addition, you usually pay based on the number of threads, so embroidering large logos is not the most convenient option.
PROS AND CONS OF SCREEN PRINTING
Screen printing uses ink to print the logo from a screen on the item you want to customize. Screen printing looks good and, if done correctly, will last a long time. Unlike embroidery, which is performed only on fabrics, screen printing can be performed on a variety of materials.
Whether you want to put your organization's logo on coffee cups, bags, stress balls or t-shirts, screen printing will do the job. In general, screen printing is less expensive than embroidery, making it ideal for large orders and large logos.
Although screen printing works on a variety of materials, it does not work well on thick or diffuse materials, such as a fleece jacket. In these cases, embroidery may be a better option.
In general, screen printing works also require a little more time than embroidery projects. You need to create a custom screen of your image for your design, which may take some time. Of course, every project is different. So here is the comparison in front of you so that you can judge if you need to go with screen printing or embroidery. You must remember what you need to go with according to your own needs and comparison(screen printing vs embroidery).
Fancierstudio Power Heat press Digital Heat Press 15 x 15
Learn More:
10 Best Screen Printing Machine Reviews & Buying Guides
Heat Press Machine Reviews | 10 Best Heat Press Machines
Screen Printing vs Dtg | Comparison, Cost & Pros, Cons | What's best?
Screen Printing vs Heat Press [Differences, Similarities, Pros, Cons]
7 Best T-Shirt Printing Machines to Buy| Reviews & Buying Guides