Comparision: Screen printing vs sublimation
Both screen printing and sublimation ink have their advantages, so how do you choose between (Screen printing vs sublimation) them?
There are two famous types of imprints (Screen printing or sublimation) that are currently practiced in the printing industry. One is screen printing and the other is 3D sublimation printing. You will often find these two types of printing, especially when you practice printing on fabric or ceramic. But what do these two different methods mean? Is there any substantial difference between the two or both are synonyms? Let's talk today about sublimation and screen printing. Then you will be completely known about the information about screen printing vs sublimation.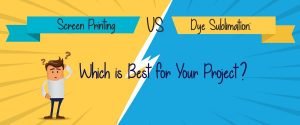 Screen Printing vs Ink Sublimation: How they Work?
Screen printing is an analogue technology that consists of pushing the ink with a squeegee through a pattern on a fine mesh screen and on the substrate being decorated. This process can be performed manually in a manual screen printing machine or with an automatic machine. Sublimation of ink is a digital printing process that requires a special printer similar to an inkjet printer.
For dye-sublimation, it is first necessary to print a mirror image of the design on special transfer paper, which is then applied to the support with a hot press. The heat of the press sublimates the ink on the transfer paper, which means that it passes directly from a solid to a gas without becoming an intermediate liquid. As a gas, the ink penetrates into the material being decorated.
What is the Right Method for your Project?
These are some of the most important factors to consider:
Order volume
The high volume is the bread and butter of screen printing. The higher the print order of the screen, the more profitable it becomes compared to other methods. On the contrary, dye sublimation takes a long time, is expensive and impractical for large orders.
Small orders can be equally impractical for screen printing. To compensate for the set-up times required for screen printing, many screen printing seminars will have a minimum order requirement to make the work useful.
Versatility and limitations
Screen printing is a very versatile process, which allows you to print on almost any garment anywhere and on almost all substrates in addition to shirts, although it is easier on flat surfaces and is more commonly used on clothing. While sublimation ink also allows you to decorate almost all products (especially banners and banners), when it comes to shirts, your options are more limited.
One of the biggest limitations of dye sublimation is that it only works on polyester or other special synthetic garments, so cotton shirts are not an option. While ink sublimation offers vivid prints, it works well only on white or light-coloured garments.
Dye sublimation will not be visible on dark substrates. Silk-screen printing, on the other hand, can be applied to garments of almost all materials and colours.
Setting up jobs
Perhaps the biggest limitation of screen printing is that it is possible to apply only one colour at a time to the print media, so multi-coloured designs require multiple screens with different ink colours that must be correctly aligned or recorded so that levels are correctly aligned in the final print.
The silkscreen configuration requires a lot of work, especially for multi-coloured jobs. You don't have to worry about aligning separate layers of ink with ink sublimation; This method prints all the colours simultaneously. Sublimation of the ink also allows individual projects to be customized more easily than screen printing.
For ink sublimation, simply change the design file and print a new transfer; Silk-screen printing requires the preparation of a completely new screen.
Management of complex designs
Both screen printing and ink sublimation can reproduce fine details and photorealistic images. Ink sublimation always uses combinations of CMYO ink (cyan, magenta, yellow and transparent) to produce any desired color, so photorealistic images do not require any additional settings.
Silkscreen printing, although more suitable for simpler projects, can achieve the same result by using techniques called four-color processes or simulated printing processes, which recreate photorealistic images using small dot grids.
This requires a little practice to obtain the correct result, both in printing and in the creation of the graphics, since the points must be carefully aligned to achieve the desired result. While ink sublimation allows you to easily create detailed prints, this is detrimental to the possibilities of special effects.
By nature, dye sublimation leaves you with a flat impression that is absorbed by the garment fibers. Screen printing allows you to use special inks to create a wide variety of effects, from glossy metal scale designs, glossy and laminated designs to 3D puff ink prints.
Creating comfortable and durable prints
Both screen printing and ink sublimation can produce prints with a soft hand. The dye sublimation ink permeates the substrate material, so the final impression does not have an obvious weight, which leaves you a more comfortable garment.
This can also be achieved with screen printing with water-based ink or discharge, which also permeates the fabric (plastisol screen printing ink is located on the top of the fabric, creating a heavier print). Both methods, if done correctly, produce lasting impressions that do not break or fade after repeated washing.
The sublimation ink prints are polymerized with the heat press during the application of the drawing, while the serigraphy ink must be heated after printing for a correct polymerization. This means that to produce screenprints at any volume, a conveyor belt dryer is required.
Both screen printing and dye sublimation are precious and versatile methods for decorators of garments and promotional products. Both processes have positive and negative aspects, projects for which they are more appropriate and projects that will not work as well.
It might be a good idea to consider offering both services in your print shop, so you can take advantage of each other's strengths to provide your customers with quality prints at any volume while keeping your profit margins on as high as possible.
Learn More:
10 Best Screen Printing Machine to Buy
Screen printing or sublimation
Heat Press Machine Reviews | 10 Best Heat Press Machines
t-shirt printing machine price
Screen Printing vs Embroidery | Which Imprint Method is Best for Your Logo
Screen Printing vs Dtg | Comparison, Cost & Pros, Cons | What's best?