Introduction to Yudu Personal Screen Printer 
Yudu personal screen printer includes emulsion sheet, mesh screen, adult t-shirt platen, platen adhesive sheet, squeegee, 2-ounce bottle of black ink and blank ink-jet transparency.
It is really a matter of joy when you can make your own t-shirt design at home. The Yudu screen printer means a personal screen printing press that helps you to make your designs and other printings. This press allows producing your own clothing designs or t-shirts. Though it for home-based screen printing, it can work as a professional t-shirt printing machine. Let's see an overview of Yudu
checkout 10 best screen printing kits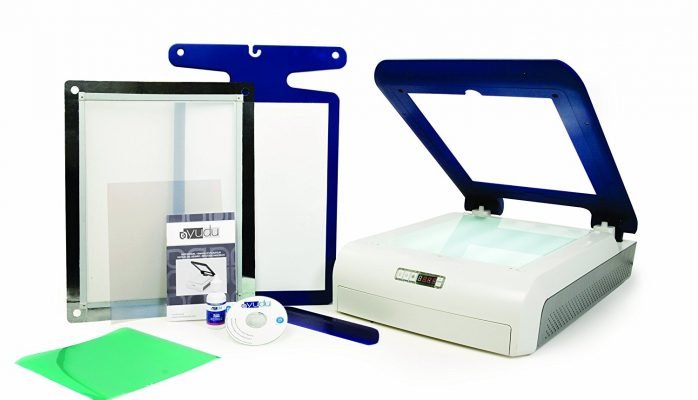 Specification of the Yudu Personal Screen Printer
Personal silk-screening system for apparel, home décor, and more; ideal for use on cotton and poly-cotton blends
Includes printing machine, mesh screen, emulsion sheet, squeegee, adult t-shirt platen, platen adhesive sheet, blank ink-jet transparency, and 2-ounce bottle of black ink
The easy-to-use control panel operates printer's light, exposure, and fan operations; requires access to computer and ink-jet printer
With instructional DVD and user manual included; unplug the printer before wiping clean with a damp rag, or when not in use
Measures 32 inches wide by 21 inches deep by 11 inches high; limited manufacturer warranty
Overview of Yudu Personal Screen Printer 
Yudu screen printing machine is compatible with art prints, home décor, schoolwork, posters, cards, and much more. A revolutionary personal screen printer Yudu is measured 32 inches wide by 21 inches deep by 11 inches high and its control panel is easy to operate with exposure and fan operations.
There so many ways of making designs for your t-shirts. You can hire a professional screen printer but you just need a minimum number of items before you go for that. Besides, it may be expensive sometimes to make a screen printing design. When you are trying to make several designs, the screen printers will charge you extra fees as they need to make a separate screen for each one. But you have the Yudu personal screen printing machine; you can save your extra cost. Yudu printer also helps to bring your latent talent
The Claim of Yudu Personal Screen Printing System
The claim for the Yudu printer is that it makes your professional screen printer gradually as you are printing your own design yourself from start to finish. Yudu personal printing system is the cleanest and easiest method to design your logo or other t-shirt design and garment items, posters and much more. In this Yudu printing system, you design anything you want with the help of an ink-jet printer and a computer.
The Hype
The screen printing press has created the hype for its screenprint at home. No other system can do the job like Yudu as another system requires a full setup to start full-screen printing in your garage or workshop. The screen printers or a hobbyist who loves to do their design themselves can jump into this. They can create a chance to make a unique and clever design from their home.
The Cost of the Yudu personal screen printing machine
The Yudu comes with everything that you need to print the t-shirt and will cost you $300 to $400 for your expected design. Of course, you require a computer and an ink-jet printer to make the various designs through the system.
The Commitment
Before starting your screen printing with the Yudu personal screen printing machine, you have to learn how to use the Yudu printer accurately for various professional designs. If you have a lot of items to use with the Yudu screen printer and you expect the professional result, you should adept at using Yudu personal press consistently and accurately. Sometimes it is said that though you are mastering with it, you may not get expected results all the time. So the commitment level needs to rather high.
Evaluation
Though everyone is talking positively about the Yudu, in fact, it fails to create a positive impact on the screen printers or hobbyists.  Even the Yudu press is ho-hum in its positive reviews and it is underwhelmed. The Yudu personal printer works apparently and just not doing an amazing screen printing job for you or you aren't speaking out saying "whoa" after completing your screen printing project. Within this price point of the Yudu, you may expect to create the stunning prints on shirts as it is foolproof and easy to use. Unfortunately, this isn't the real fact here.
A common complaint from the Yudu personal screen printers is that it takes a little time to adjust to it but once you can set up the press correctly, it's not tough to use. The Yudu personal screen printing machine isn't designed for the casual hobbyist screen printer to get involved in as it's quite a highly developed printing system. You should buy the Yudu personal printing press if you have a keen interest to get into the screen printing to bring the worth of your money. If you aren't ready to do so, you shouldn't have enough drive to go for this Yudu printer to stick with paints, exposure sheets, and inks.
Final Review of Yudu Personal Screen Printer 
If you want to start a small screen printing project or you have an existing screen printing workshop, this Yudu silk screen printing machine, personal screen printer might be the best choice than to hire a professional screen-printer. However, the Yudu screen printing method can't go to your thumbs of high rating as the feedback from the consumers just isn't much positive. Some Yudu buyers make the negative comment or criticize the accessories while praising politely the main unit. On the other side, they said the whole thing is just a bit underwhelmed.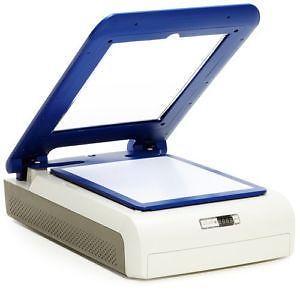 Our Recommendations for Yudu personal printer
When you have the definite need for this personal printing press, it should have filled up your expectations that live up to your satisfaction. However, the satisfaction level of using this pres is less than 50% and you have less chance that would make satisfy you. Therefore, our recommendation is to explore other options before purchasing it. Look at what screenprintingmachine.net can do for you, and check out the reviews of different printers on Yudu screen printing machine and the opinions of the screen printers.
Read Related Articles:
best screen printing machine for small business
Top 10 Best Heat Press Machine Reviews
Buyers Review the Yudu Personal Screen Printer