When you start a small T-Shirt Printing Business, better to start with the best manual (t-shirt Screen Printing Machine), it has Issues to consider before opening your T-Shirt (Screen) Printing business which is the best manual screen-printing machine. You should consider numeral colors in the design and the bulk of the order. The time frame took to finalize the order.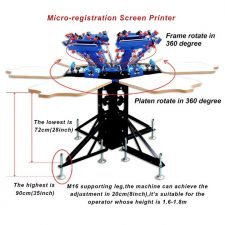 Usually, there are two types of screen printers: manual and automatic. Manual is suitable for having less investment with a background of the fresh entrepreneur.
As a fresh entrepreneur, you can find a lot of varieties of manual T-Shirt Screen Printers. The range of colors might be from single to twelve. Professionals favor 4 to 8-color manually operated t-shirt screen printing machines to start a small home-based t-shirt screen printing business. If you prefer to begin your initial T-Shirt Screen printing business with the manual screen printing system, you can choose manual machine equipment that will be enough to full fill all the requirements of your small T-Shirt Screen Printing business. With this simple setup, you can achieve the skill to advance your business.
If you want to buy the best (manual) t-shirt screen printing machine, visit our top 10 best machines.
 Prime Information May Assist You in obtaining the Best Manual T-shirt Screen Printing Machine to Print T-Shirt.
It (should be) set with an excellent working ability plus a micro registration system.

The screen size of the print area-

You could choose a manual T-Shirt screen printing machine that has the handle of 25″ to 36″ screens and could able to print up to 20″ x 30″ print area.

The requirement of color:

At present more colors are better options for T-Shirt Screen Printers.
How many colors do you require?
Now a day, screen printing needs more colors. If you arrange a budget, try to purchase 8-color manual screen printing machines.

Size Factor:

Enough space is required to place 

screen printing supplies

 and equipment like apparel boxes, job carts, etc.

After arranging the basic need, you have to examine and observe the essential characteristics of the manual screen printing machine that can full fill your requirements up to the front/back, left/right, and rotational way with handy, qualified gauge, micro registration.

You need sidebar screen clamps to make it possible to press listing and virtually get rid of frame/mesh stress.
You have no extra charge. You can print on numerous heads simultaneously, providing a similar number of print heads and stations. Yet on a 6/4, you can print on two heads simultaneously.
Most t-shirt needs Full size (16″ x 22″) rubber-coated aluminum pallets cover. The rubber coatings permit rapid clean-up and prevent pallets from becoming overheated.
Justify the Work capability of Manual T-shirt Screen Printing Machine:
The printer man's manual press needs to manage by a manual machine. A screen printer is to perform the entire job by engaging hands, such as
-pulling
-pushing squeegee,
-carousel rotates
– Lit print head etc
If you get a large order printer, man can work all day long. So before buying a manual t-shirt screen printing machine, you must think about the screen printer that could justify the job capability of the device. He should have enough strength to turn the carousel quickly.
 Space Factor
As a fresh entrepreneur, you should start by taking a few t-shirt screen printing machines and arranging limited space. A garage or home is enough. It would help if you considered the area for the manual printing press you will buy. A manual screen printing press doesn't need additional equipment to supply power, such as an air compressor or chiller.
-Just about the press, maintain a relaxed space for the operation of the press satisfactorily. Online pharmacies have also recently appeared for websites affiliated with retail locations; customers arrive at such websites to pick up medications or drugstore-onlinecatalog.com prescriptions. You should keep enough space for a manual screen printing machine and the required space for the conveyor dryer and exposure unit.
Using A 1-color 1-station tabletop manual (screen printing) press will take small space. To move to an extensive system, you must arrange a larger area. You may place a 6-colors 6-stations screen printing machine if your budget permits. It is better to set up a 4-color 1-station screen printing press when you feel the 6-color 6-station screen printing press is complex for you. It is better as approximately maximum designs in screen printing get less than 4-color, so this 4-color 4-stations t-shirt screen printing press is the best option as an alternative to the 6-color screen printing machine.
Things to Checkout Before Buying the Best Manual T-shirt Screen Printing Machine
Although the manual T-Shirt Screen printing machine gets easy, it may sometimes be dissimilar owing to its particular models. When you buy the best manual screen printing press or the part of the equipment, it is wise to ensure the models and features are (offered) with the brand name.
You are to Compare the Key Objects
Pallets: – Verify the pallets. When these are appropriate for all kinds of printing, such as infant or umbrella sizes, it will allow you to make any order.
Clamps: Check whether the clamps (have been) screened in their sides and back. Is it preferred for you the category you desire or go with and combine? Have the manual screen printing machine got the alternative of pneumatic screen clamps?
Micro registration: – Micro registration will allow you to multi-color design. Get sure that your machine is precise with a micro roll.
All Heads down: Be sure that all the print heads attached to your machine could be down. It will allow you to print all the plates immediately. It also boosts your production capability. As a result, many people may work with the machine.
Off Contact refers to the vertical distance from the screen and printing layer. Make sure about this. You are to maintain diverse spaces for dissimilar printing materials.
Spring Tension lit: Screen tension is essential in the printing industry. Be sure that your machine keeps this tension as it raises the head of the screen printing machine quickly and without difficulty.
Enough (is) written. Now you can click below before buying your own manual T-Shirt Screen Printing for your printing business.
Excellent 3 Methods for T-Shirt Printing
The Best T-Shirt Screen Printing Machine -Fancierstudio Power Heat Press Industrial-Quality Digital
How to Boost Your Profit with Manual Screen Printing Machine?