Factors must be considered when choosing between a screen-printing company that operates on an automatic or manual screen-printing press. 
Considerations include the size of your order, the number of colors in your design, speed and efficiency, and whether you plan to reorder the same method.
Maintaining consistency amongst your garments in areas such as logo placement and high print quality is essential. Automatic screen printing is the best option for your custom t-shirt orders. An automatic screen-printing press can print a significant run in a short period while applying the same amount of pressure on the blade to apply the ink to the garment. For instance, important events like a charity run require custom t-shirts for hundreds of participants. Automatic screen printing will ensure your order preserves a uniform image.
Automatic Screen Printing Method
When someone's business is going reasonably, they switch to the automatic method of printing shirts to expand their business. When one's business is in a good run and is getting lots of orders, one chooses an automatic screen printing press to complete the orders in time. Switching to the automatic printing method from the manual printing method is not an easy process. One must switch to an automated method from the manual method only after considering many factors.
The principal aim of every business is to grow. Growth in terms of money and growth in terms of the brand is something that every company wants. But buying an automatic screen printing press for printing shirts is something that no business owner should take lightly. The automated printing method will indeed work to wipe out bulk orders. But it would help if you also kept in mind customer satisfaction.
It would help if you got several steady customer orders to run the automatic screen printing press. For this reason, you will have to maintain a good relationship with your customers regarding quality.
It would help if you had a perfect foundation for your business before switching to an automatic printing method. You will need to have several customers giving you hundreds of orders steadily. Of course, the automated printing process will bring you lots of money, but you'll have to pay much attention when you switch your business to an automatic method of printing shirts.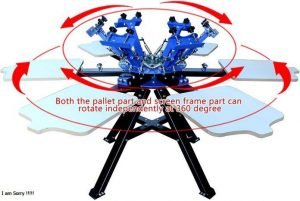 Benefits of Using Automatic Printing Press
Less effort by automatic printing
The automatic printing method requires the least effort and can provide output in a short period without taking any breaks. On the one hand, manual printing requires large human resources and needs time to time, and automatic printing methods can produce more output without any break.
Precise printing
When considering the large volume of orders, manual printing methods fail to provide accurate or precise results. Some fluctuations occur in manual processes. The automatic printing method removes this fluctuation and ensures a clear and perfect result.
Higher production rate
The manual printing method fails when customers want quick delivery of many orders. The automatic printing method ensures fast delivery or output rate. The automated printing method is the prime choice for everyone when it requires complete orders of large volumes in less time.
Suitable for all types of projects
A minor physical effort is required for accurate printing as the automatic printing method has a higher production rate. It's for all projects. Especially for more significant projects, the computerized printing method is the prime choice for every printing service provider.
The Limitations of Automatic Printing Method
Cost of the automatic screen printing press
An automatic printing machine costs much more than a manual printing machine or any other screen printing machine. The average cost of an automated printing machine ranges between 20 thousand $ to 30 thousand $. Surely, beginners may not be able to afford an automatic printing machine. But as it is a good income source, taking a loan to buy it is not a bad option.
Unsuitable for small jobs
An automatic printing machine isn't cost-effective for small printing jobs. They seem good while handling bulk orders.
Set-up area for the automatic screen printing press
An automatic screen printing machine can't be set up in a small area as a manual printing machine can be. It requires a larger area to accommodate and operate. Thus having a limitation in space is not suitable for this machine.
Manual Screen Printing Method
Manual screen printing is the method of printing starting from one-station top presses to eight-station floor presses. The manual page is your most desirable option if you are a beginner or a medium-level printer. If you expect a short-term run, then manual printing is for you. Moreover, if you have enough time to make a long-term run, you can also use screen printing.
The meaning of manual printing is the way how it sounds. Everything done in manual printing is done by hand, enabling the users to make various adjustments and edits with the printing process. That is why customers get more attracted to manual printing when they need adjustments in the printing process. There is also a benefit associated with the equipment of manual printing. The equipment that you buy for manual printing lasts for a very long term.
Manual printing, of course, has many benefits. But it also requires lots of effort to do manual printing. Manual printing completes a lot of steps. The person performing manual printing has to rotate the carousel, make various adjustments, bend and kneel, lower and lift the printing heads, and many more.
On the one hand, the number of shirts printed in one day by manual printers is much less than by automatic printers. The automatic printers print a large number of shirts per day. On the other hand, the printing time of a shirt by a manual method is also longer as compared to automatic printing.
If you want to continue your shirt printing business with a manual printing method, you will indeed have good-quality printed shirts. But this process is time-consuming, so you will have to hire several employees to complete the orders in time. Manual printing is an easy process. It can be understood by people very easily, so you may not have to feel difficulties finding people to work with you. If all the conditions mentioned above are in your favor, then you can go with a manual printing method or else have a look below at the automatic printing method.
The Benefits of Printing Shirts with the Manual Printing method
Cost-efficient
The manual printing machine certainly comes at a lower price than the automatic printing press. The manual printing machine is slower than the automatic printing press, but it has benefits. Its benefit in terms of cost is that you can get a four colour/1 station manual printing machine for a price as low as 150 dollars. Thus the manual printing machine is cost-efficient compared to the automatic screen printing press, which is comparatively expensive.
Works best to handle small orders
As mentioned earlier, manual printing is best for beginners and even intermediates. When you start your printing business, you will not likely get big orders within a day. At the beginning of your business, you get small orders. The manual printing method is a popular choice for small and medium orders.
Space-saving
The manual printing machines can be set up within very little space. Thus they can be assembled and operated in a small area.
Customer-friendly
As we mentioned, every work is done by hand in the manual printing method. Due to this reason, customers can make various adjustments to the printing process. When the customers get the opportunity to adjust the printing, they get attracted to the method, and thus, they choose this method over others.
Limitations of Manual Printing Method
Needs more labors
More physical effort is required while printing shirts using the manual method. You need many people to work with you to complete the orders in time. The screen printing quality using a manual method depends upon the operator's ability—physical effort and experience (are required) for a good result.
Speed limitations
The manual printing machine's printing speed is much lower than the automatic printing press. An automatic printing press can produce ten times the number output per day than a manual printing machine. Explains that manual printing is not a good option for completing large orders in time.
Printing consistency
It isn't easy to get consistency in printing the shirts using manual methods. When it comes to printing 1000 t-shirts of the same type, the manual printing method fails because the appearance of the t-shirt depends upon the pressure applied to the machine, which may sometimes vary.
Conclusion
From all the benefits and limitations of manual and automatic printing mentioned above can be concluded that none of the printing methods is superior. Both manual printings, as well as automatic printing, have their advantages. The place where manual printing is used may not be a suitable place for using automatic printing. In the same way, manual printing may not apply to an area where an automatic screen printing press is used.
Now it is upon you that you have to think about which printing method will be the most suitable method for your business.
Read More:
the best vinyl cutting machine for t-shirts
10-best screen printing machines for small business
7-best t-shirt printing machine reviews